Historic Resources Branch
Manitoba Municipal Heritage Site No. 371

Cranberry Portage Railway Station
NW 31-64-26 WPM
Cranberry Portage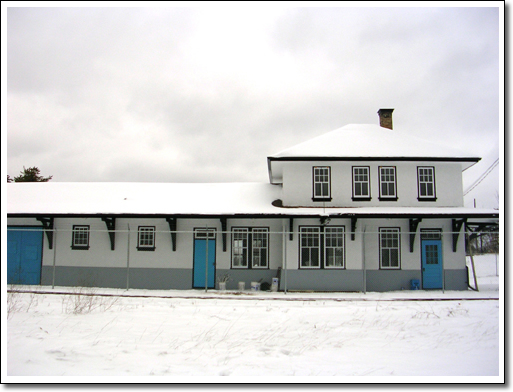 Designation Date: May 16, 2012
Designation Authority: Kelsey (R.M.)
Present Owner: Cranberry Portage Heritage Museum

Cranberry Portage Railway Station is a good example of a railway station that served for many years as an essential connection point for a fairly remote community. It is also a good example of a Canadian National "type three" design, with the second-floor station master's residence and other interior features such as the ticket office and waiting room appointments unusually intact. The station follows the typical post-1915 "third-class" design, with a two-storey main block with a hipped roof, and the typical bay window to allow the station master a view up and down the track. Extending northward from the main block, and parallel to the tracks, is a long rectangle formed by the baggage room and a substantial two-room freight shed, which was added to the baggage area shortly after construction. This was crucial, as before the road connection came to Cranberry Portage in 1952, the station provided the major point of transport and shipping, not only for the town, but also for fur traders, prospectors, and the mining communities at Copper Lake and Elbow Lake. The station has a high degree of exterior integrity, and considerable interior integrity, especially in the main block.