Historic Resources Branch
Manitoba Municipal Heritage Site No. 372

Franklin Memorial Hall
SE 6-15-16 WPM
Franklin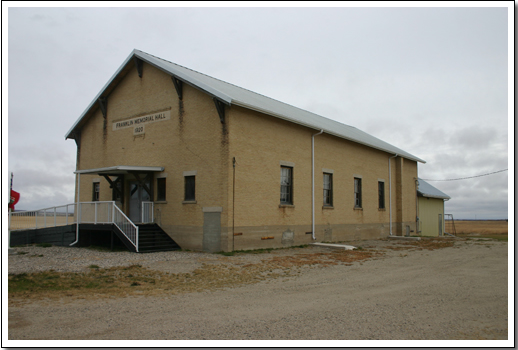 Designation Date: June 8, 2012
Designation Authority: Rosedale (R.M.)
Present Owner: Franklin Community Association Limited

Franklin Memorial Hall is valued primarily as a rare surviving example of a community hall built as a memorial to people who died fighting in the First World War; a cenotaph in front of the building commemorates the five local men who died in that conflict. The hall was built under the direction of contractor William Wylie of Minnedosa, and still serves today as an attractive venue for community events and celebrations. As one of few remaining buildings in Franklin - once a lively town with three elevators, a large school, two churches, a bank, and their associated houses and shops -it stands today as a reminder of the vitality, prosperity and optimism of small Manitoba towns in the 1920s, before the province began shifting towards a predominantly urban population. The building has experienced a rear addition and some sensitive interior alterations, but the overall physical integrity is good; it retains its original windows and interior woodwork.