Historic Resources Branch
Manitoba Municipal Heritage Site No. 377

MacGregor Canadian Pacific Railway Water Tower
SW 17-11-11 WPM
Austin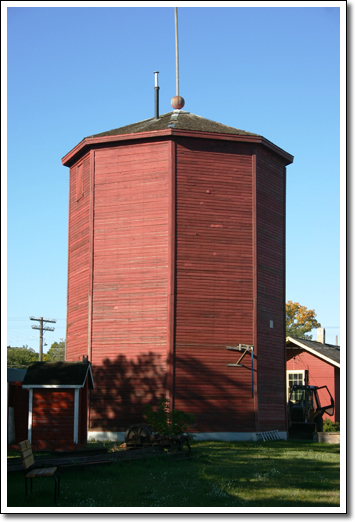 Designation Date: April 12, 2013
Designation Authority: North Norfolk (R.M.)
Present Owner: Manitoba Agricultural Museum

The MacGregor Canadian Pacific Railway Water Tower (1904) is one of only two surviving examples of the 75 "Standard Number One Plan" water towers that once served the steam locomotives that powered the expansion of European settlement in Manitoba. Once gravity-filled from Jackson's Lake, 15 miles west of the Village of MacGregor, the tower holds a cedar-lined tank with a capacity of nearly 182 thousand litres. The tank is held 22 feet in the air to provide the pressure needed for rapid filling of locomotives preparing to embark on the climb up the Manitoba Escarpment. Rendered obsolete by the diesel engine, the tower served the CPR until 1957. Although it was moved in 1987, the tower retains excellent exterior integrity and many interior features.