Historic Resources Branch
Manitoba Provincial Heritage Site No. 43
H.P. Tergesen General Store
82 First Avenue,
Gimli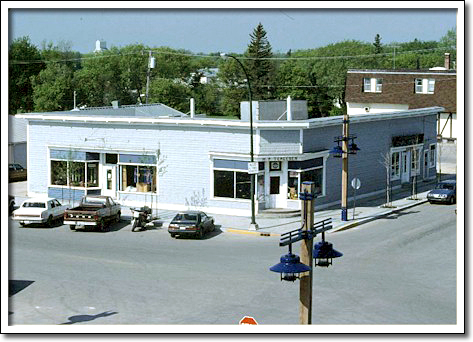 This General Store was constructed in 1898 by Hans Pjetur Tergesen and opened for business on January 1, 1899. It has been owned and operated by three generations of his descendants. It is the oldest operating general store in Manitoba and an excellent example of a rural community store. The vernacular-style building is a rectangular wooden structure with a flat roof. A wooden parapet with a bracketed cornice gives the building a more imposing appearance. The interior possesses most of its original furnishings.
The 1899 general store was a two-storey structure clad in pressed tin to resemble brick. In 1912–13, a two-storey addition provided more space for Tergesen's dry goods and clothing sales, and room for a drug store, dentist's office, ice-cream parlour, and a barber shop. A second floor that had first served as the Tergesen family living quarters was removed in the 1920s. The building provided space for a classroom, a community hall, the Gimli Women's Institute, and the University of Manitoba's library extension service.
General stores faced fierce competition—first from mail-order suppliers and then also from franchise chains after 1930. The store has survived because of its ability to adapt to a changing economy.
---