Francophone Affairs Secretariat
Secrétariat aux affaires francophones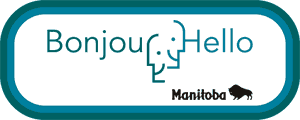 Report and Recommendations on French Language Services Within the Government of Manitoba

Prepared by the Commissioner Honourable Judge Richard Chartier / May, 1998


Un rapport et des recommandations sur les services en français au sein du gouvernement du Manitoba

Préparé par le Commissaire l'honorable juge Richard Chartier / mai 1998
---
---
8. NEEDS AND EXPECTATIONS
OF THE CLIENTELE
8. LES ATTENTES ET LES BESOINS
DE LA CLIENTÈLE
During the month of December 1997, I met with a number of Francophone groups, organisations and individuals from Manitoba. The major point that emerged from these encounters is that the French-speaking community of Manitoba very much wants equivalent treatment when it requests French-language services. It does not want special treatment, but nor does it want to have to go to extraordinary lengths to obtain services in French.
Durant le mois de décembre 1997, j'ai rencontré plusieurs groupes, organisations ou particuliers francophones du Manitoba. Un point majeur ressort de toutes ces rencontres : la communauté d'expression française du Manitoba désire fortement recevoir un traitement équivalent lorsqu'elle demande des services en français. La population d'expression française ne veut pas de traitement spécial. De plus, elle ne veut pas être obligée de faire des démarches extraordinaires pour obtenir ces services en français.
The active offer principle is consistent with these expectations:
Le principe de l'offre active va dans le sens de ces attentes :

Members of the general public should be convinced from the outset that using the official language of their choice will not result in a diminished quality of service, wherever this service will be offered.

Les membres du grand public doivent être convaincus dès le départ que, s'ils utilisent la langue officielle de leur choix, la qualité du service n'en souffrira pas, quel que soit l'endroit oú le service est offert.

As far as government services are concerned, the representatives of the Franco-Manitoban community identified as essential services, services from the following government departments and Crown corporations:
En ce qui a trait aux services gouvernementaux, les représentants de la communauté franco-manitobaine ont surtout identifié les services émanant des ministères ou des sociétés de la Couronne ci-dessous, comme étant des services essentiels :

Éducation et Formation professionnelle

Highways and Transportation (driver licencing and road signs)

Voirie et Transport (Permis de conduire et signalisation routière)

Liquor Control Commission

Manitoba Public Insurance (Autopac)

Société d'assurance automobile (Autopac)

I therefore met with the ministers, deputy ministers or presidents concerned to discuss how the delivery of services for the French-speaking population could be improved. Details on the outcome of these discussions will be provided further on in this report.
J'ai donc rencontré les ministres, sous-ministres ou présidents de ces sociétés de la Couronne pour discuter de l'amélioration de la prestation des services pour la population d'expression française. Le résultat de ces discussions sera donné en détail plus loin dans ce rapport.