Families Annual Reports
Social Services Appeal Board Annual Reports
Annual Report
This Annual Report is organized in accordance with the appropriation structure for Manitoba Families. The report includes information at the main and sub-appropriation levels relating to the Department's objectives, and actual results achieved. Financial performance information is provided with expenditure and revenue variance explanations, and a five-year adjusted historical table of staffing and expenditures.
This report and specific sections are available for download as PDF 

 files.
Manitoba Families Annual Report 2020-2021 (2.95 MB)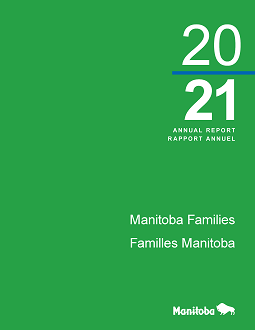 Specific Sections:
Table of Contents
Preface
Organizational Chart
Financial Information
Performance Reporting
Appendices
This publication is available in alternate formats upon request.
For alternate format requests, please contact the Accessibility Coordinator at the email below:
Department of Families
Accessibility Coordinator
205 - 114 Garry Street
Winnipeg, MB R3C 4V4
Phone: 204-945-3744
Email: fswebunit@gov.mb.ca
For general inquiries contact Manitoba Inquiry
Previous Reports:
Manitoba Families Annual Report 2019-2020 (2.95 MB)
Manitoba Families Annual Report 2018-2019 (2.28 MB)

Manitoba Families Annual Report 2017-2018 (2.28 MB)
Manitoba Families Annual Report 2016-2017 (1.2 MB)
Manitoba Families Annual Report 2015-2016 (970 KB)

 

To review print versions of previous reports, please visit the Legislative Library of Manitoba
100-200 Vaughan St.
Winnipeg MB R3C 1T5
Phone: 204-945-4330
Email: legislative_library@gov.mb.ca