2017 Statutory Review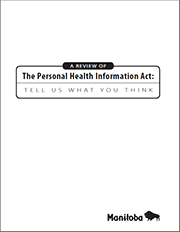 The Personal Health Information Act (PHIA) became law on December 11, 1997. It's a law about the rights Manitobans to have access to their own personal health information while having that information protected from inappropriate collection, use, disclosure, retention or destruction.
PHIA requires the Minister of Health to conduct a periodic public review, making sure the act continues to meet its objectives and reflect contemporary needs.
The deadline for submissions to the Review of The Personal Health Information Act was June 30, 2017.

A Legislative Review of The Freedom of Information and Protection of Privacy Act is also being undertaken by Manitoba Sport, Culture and Heritage at this time.

Links