---
Cold Chain Protocol - Vaccines and Biologics
---
---
7. Packing, Storage and Handling for Off-Site Immunization Clinics
The following packing recommendations for the transport of vaccines and biologics to off-site clinics are based on research conducted by the BC CDC, the guidance provided by the National Guidelines (2007), the BC CDC Cold Chain Guidelines, and the CDC Atlanta Cold Chain Guidelines.
7.1. Basic Principles
An insulated container should be used and temperature monitored (see Required Actions for Temperature Monitoring at Off-site Clinics) for frequency of temperature monitoring.

Pack enough refrigerated and/or frozen packs to maintain cold chain (the number of packs is dependent on the container size, ambient temperature, volume of product and length of time transporting).

During transport in a personal vehicle:
– Do not place container in trunk
– Avoid placing container in direct sunlight or in line with heater or air conditioner

Only pack the quantity of vaccines and biologics that is expected to be used. Only a brief period out of the refrigerator can be tolerated.

Ensure stock rotating principles are in place. Stock that has been transported and returned from clinics should be marked and used first.
7.2. Equipment for Transport to Off-Site Clinics
Insulated Containers (Coolers)

Hard-sided insulated containers (with insulation of 30mm to 80mm thick) or newer Styrofoam coolers with at least two (2) inch thick walls.
Large enough to store vaccines and biologics, insulating materials, and icepacks during transport.
Tight-fitting lid and strong handles for carrying and/or wheels.

Ice Packs

Keep enough ice packs frozen.
Do not place in direct contact with product as product(s) may freeze; place insulating materials and fillers, if required, between ice packs and product.


Insulating Materials

Flexible insulating blankets, gel packs, shredded paper, cardboard, bubble wrap, or Styrofoam.
Flexible insulating blankets or gel packs conditioned to fridge temperatures can be used to wrap around the vaccines and biologics during transport.


Temperature Monitors

The use of a min/max thermometer or data logger is recommended for monitoring temperature inside the cooler during all off site clinics
The temperature monitor should be placed next to the products and should not come into contact with the frozen packs.
7.3. Packing for Transport
The contents of the cooler should be packed as shown in the diagram below:
Diagram: Packing a Cooler for Transport to an Off-Site Clinic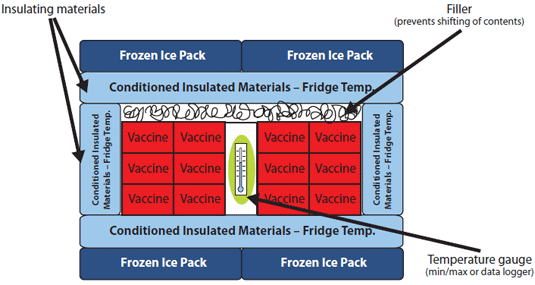 Adapted from the North Carolina Vaccine Storage and Handling Guide
Note: Pack the vaccines and biologics in their original packaging between the layers of insulating material and fill spaces with crumpled paper or other filler to help prevent shifting of contents during transport. Do not remove vials from boxes and do not draw up vaccines or biologics in advance.
7.4. Maintaining Cold Chain at an Off-Site Clinic
The insulated container (cooler) used for transport and clinics replaces the refrigerator. The cooler should be treated in the same way as the refrigerator (i.e., only open the container when needed and monitor and document temperatures at regular intervals)
Note: There is no standard definition for a "long or mass" immunization clinic. Of coolers studied, when packed following packing guidelines, interior temperatures were acceptable for at least four to six hours under clinic simulations.
Required Actions for Temperature Monitoring at Off-site Clinics:
Use a min/max thermometer to monitor and record temperatures on a Vaccines and Biologics Temperature Log (See Section 6: Temperature Monitoring):
• Before leaving the office
• Upon arrival at off-site clinics
• Every three (3) hours
• At the end of the clinic
• Upon return to the office

Each immunizer can use a separate small insulated container (cooler) at their workstation for a small quantity of product. vaccines and biologics should be protected from freezing by placing insulating material between the product and the ice pack(s).

Keep the balance of the product in the large insulated container (cooler) used for transport.

Streamline workflow and minimize product exposure to temperatures outside of 2-8°C and mishandling, by designating one staff person to dispatch/re-pack product from the main cooler to workstations and using several small labelled coolers to differentiate products at the work stations.

Drawing up should only occur at the clinic site and every attempt should be made to minimize exposure to temperatures outside of 2-8°C. If drawing up from a multi-dose vial, the vial is to return to the insulated container as quickly as possible to avoid prolonged exposures outside of 2-8°C.
Communicable Disease Control (CDC)
Public Health
Manitoba Health
4th Floor - 300 Carlton St.
Winnipeg MB R3B 3M9 CANADA

Health Links – Info Santé
204-788-8200 or 1-888-315-9257