Cholera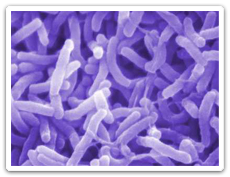 Cholera is an intestinal illness caused by bacteria. It is spread by drinking or eating contaminated water or food. Cholera can spread very quickly in areas where sewage and drinking water are poorly treated. Cholera is very rare in industrialized nations due to drinking water sanitation and proper sewage treatment and disposal. However, the disease is still common today in other parts of the world, including the Indian subcontinent, Asia and most of Africa.
Image Content Providert: CDC/Colourized by James Gathany / Photo Credit: Janice Carr
Symptoms
Most infected people do not show any symptoms. Those who do will usually experience mild to moderate diarrhea with or without vomiting. In more severe cases, it causes frequent watery diarrhea which can lead to severe dehydration and even death if not treated promptly.
Causes
Cholera is caused by drinking or eating contaminated water or food. Consumption of raw or undercooked seafood in endemic areas and overcrowding have been implicated as causes, as well.
Treatment
Oral rehydration is the most important treatment. The use of antibiotics can shorten the duration and diminish the severity of the illness.

Prevention
Most travellers are at low risk if basic water and food precautions are followed. Frequent hand washing is highly recommended. Alcohol-based hand gel can be used if soap and water are not readily available. Higher risk travelers (humanitarian relief workers and travellers visiting areas of high risk with limited access to safe water and food) should consult a health care provider to discuss the benefits of getting vaccinated.

---
Manitoba Health Resources
For Health Care Providers
---
Other Resources
---
Information for Travelers
Communicable Disease Control (CDC)
Public Health
Manitoba Health
4th Floor - 300 Carlton St.
Winnipeg MB R3B 3M9 CANADA

Health Links – Info Santé
204-788-8200 or 1-888-315-9257