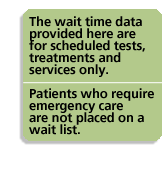 Summary of All Hip & Knee Surgeries
Includes Total Hip Replacement, Hip Revision, Knee Replacement, and Knee Revision.
Regional Health Authority

Facility

Median Wait Time
(in weeks)

Total
(per month)

2021/2022
Fiscal Year to Date1

2020/2021
Fiscal Year1

Prairie Mountain Health
Brandon Regional Health Centre
47
72
394
630
Southern Health-Santé Sud
Boundary Trails Health Centre
24
33
264
352
Winnipeg
All Facilities
42
340
2,015
2,921
Concordia Hospital
40
145
991
1,450
Grace Hospital
42
191
982
1,405
Manitoba Total
40
445
2,673
3,903

Data for November 2021
1 Fiscal year is April to March.
On rare occasions, hip and knee surgeries are performed at other Winnipeg facilities on an emergency basis. For this reason, the total number of surgeries performed in Winnipeg may exceed the sum of the surgeries performed at the individual facilities listed here.
Median wait time: The point at which half the patients have had their treatment, and the other half are still waiting. For example, if a median wait time is 4 weeks, this means that half of the patients waited less than 4 weeks, and half waited more than 4 weeks. The median is another way of reflecting what a "typical" patient might have experienced in that time period. Unlike the average, the median is not generally influenced by one or two very unusual cases (long or short), and is therefore more stable over time.
Some facilities show longer median wait times. However, this is not an indication that all patients wait longer for hip and knee surgery at those sites.
---
Hip & Knee Surgeries Historical Information
Historical data for the previous 13 months is available by clicking the link below:
View the historical information here - PDF


View the historical information here - Excel