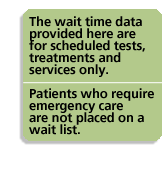 Knee Replacement
Knee replacements are performed in the Prairie Mountain Health, Southern Health-Santé Sud and Winnipeg regional health authorities. Ask your surgeon where you are having your knee replacement surgery.
What is Knee Replacement Surgery?
Knee replacement surgery removes a damaged joint and replaces it with an artificial/prosthetic joint.
---
Knee Replacement Wait Times
Regional Health Authority

Facility

Median Wait Time
(in weeks)

Prairie Mountain Health
Brandon Regional Health Centre

49

Southern Health-Santé Sud
Boundary Trails Health Centre

45

Winnipeg
Concordia Hospital
Grace Hospital

50
(all facilities)

Data for September 2022
Median wait time: The point at which half the patients have had their treatment, and the other half are still waiting. For example, if a median wait time is 4 weeks, this means that half of the patients waited less than 4 weeks, and half waited more than 4 weeks. The median is another way of reflecting what a "typical" patient might have experienced in that time period. Unlike the average, the median is not generally influenced by one or two very unusual cases (long or short), and is therefore more stable over time.
Knee Replacement Surgeries Performed
Regional Health Authority

Facility

Total
(per month)

2022/2023
Fiscal Year to Date1

2021/2022
Fiscal Year to Date1

Prairie Mountain Health

Brandon Regional Health Centre

41

278

406

Southern Health-Santé Sud
Boundary Trails Health Centre

34

152

159

Winnipeg
Concordia Hospital
Grace Hospital

187
(all facilities)

1,143
(all facilities)

1,472
(all facilities)

Manitoba Total

262

1,573

2,037

Data for September 2022