Pregnant or a New Parent?
Healthy Baby encourages early regular prenatal care and promotes and supports healthy outcomes for moms, babies and families.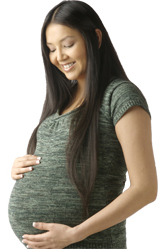 Manitoba Prenatal Benefit
If you are pregnant, live in Manitoba and have a net family income of less than $32,000 a year, the Manitoba Prenatal Benefit can provide you with a monthly cheque to help you buy healthy foods that you need during pregnancy.
Community Support Programs
Healthy Baby Community Support programs help pregnant women and new parents connect with other parents, families and health professionals. Healthy Baby group sessions offer information, support and resources on prenatal and postnatal nutrition and health, breastfeeding, parenting tips and lifestyle choices.
What some moms have said about Healthy Baby…
"My husband and I are young parents and the money we receive each month allows us to maintain a healthy diet and lifestyle."
"…everyone is friendly and you find out a lot of information and if you don't want to talk, they don't make you say anything."
"a very accepting atmosphere there"
"Getting out and being around people… learning things… gives me something to do."
Learn more about the Manitoba Prenatal Benefit and Healthy Baby Community Support Programs in Manitoba.