Build your career with the Manitoba Public Service
Manitoba's government, health care organizations, crown corporations and agencies offer a broad range of job opportunities across the province.
Our public servants take pride in fostering diverse workplaces that are built on a foundation of strong ethical standards and respect for one another. The Manitoba government recognizes the importance of building an exemplary public service reflective of the citizens it serves, where diverse abilities, backgrounds, cultures, identities, languages and perspectives drive a high standard of service and innovation. The Manitoba government supports equitable employment practices and promotes representation of designated groups (women, Indigenous people, persons with disabilities, visible minorities).
Most important, Manitoba's public servants are welcomed and celebrated, regardless of their faith or culture - in Manitoba diversity is respected and valued.
Career Opportunities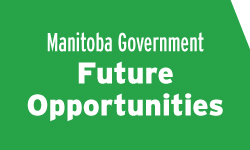 To apply for general recruitment, please submit your resume to MBJobsEmplois@gov.mb.ca. Please include in the body of your email your contact information (name, address, phone number and/or email) and the type of position(s) you are interested in.
We thank all who apply and advise that only those selected for further consideration will be contacted.
---
21 reasons why you will feel at home in Manitoba
Look at what Manitoba offers you and your family.
1. We speak French - Manitoba has the largest French-speaking community west of Ontario. The French-speaking population in Winnipeg, Manitoba's capital city, and areas south of the city is over 100,000, with over 35,200 of these residents identifying as francophone.
2. Diverse Cultures - Manitoba's people come from over 250 ethno-cultural groups, representing 150 countries and 148 different languages. Since 1970, Winnipeg's Folklorama Festival of Nations has celebrated our multicultural diversity.
3. Indigenous heritage - 63 Indigenous communities, speaking seven different languages, live in Manitoba, which is also the birthplace of the Métis Nation.
4. Nurses - 200 new nursing positions are being created by 2023 with competitive compensation, benefits and opportunities to reach your full career potential.
5. Affordability - Own your own home at a price you can afford. Housing prices in Manitoba are among the lowest in the country.
6. Meet us at The Forks - The junction of the Red and Assiniboine rivers in Winnipeg has been a meeting place for over 6,000 years. Today, it is home to Winnipeg's foremost destination welcoming over 4 million visitors each year to its shops, restaurants, river walks and skating trails.
7. Quality Education - Manitoba's five universities and three community colleges offer high-quality advanced education with some of Canada's lowest tuition fees. L'Universite de Saint-Boniface is Manitoba's French-language post-secondary institution, and delivers university programs entirely in French.
8. Canada's Heartland - You're at the centre of it all in Manitoba, providing you and your family with easy access to explore the rest of Canada, and the United States.
9. A thriving arts community - From the Royal Winnipeg Ballet, to Le Cercle Moliére, Canada's oldest theatre group, Manitoba is a cultural hot bed that has produced dancers, actors, writers and musicans who are famous world-wide.
10. CFL football - The Winnipeg Blue Bombers are the 2019 Grey Cup Champions, newly celebrating their 11th Grey Cup victory.
11. Sunny days - Winnipeg is Canada's third sunniest city with 2,353 bright sunny hours and 316 sunny days per year.
12. Canadian Museum for Human Rights - Winnipeg is home to the only museum in the world devoted solely to human rights. Dignity, respect and inclusion are given a showcase in this national museum.
13. Look North - Manitoba's beautiful north is home to Churchill, the Polar Bear capital of the world. Visitors can also climb aboard a zodiac boat and drift among pods of graceful Beluga whales or gaze up at the world-famous aurora borealis (northern lights) as they dance across the night sky.
14. NHL hockey - The Winnipeg Jets are one of the loudest, proudest, and most exciting teams in the NHL. Home rink is at the Bell MTS Centre, where a variety of concerts, shows, and events await.
15. Inuit Art - Opening in 2020, Winnipeg will be home to an Inuit Art Centre that will display over 7,500 stone, bone, antler and ivory carvings from across the Arctic.
16. Caring community - The rate of volunteerism in Manitoba is consistently among the highest in Canada, and Manitobans have the highest proportion of charitable giving in any province.
17. The great outdoors - From back country camping to weekends at the cottage, discover the wild beauty and adventure found in Manitoba's ninety-two provincial parks. In fact, - Manitobans have one of the highest rates of vacation home ownership in Canada.
18. A true four-season climate - Manitobans enjoy long warm summers, colourful Autumns, clear, crisp winters and beautiful, bright spring days.
19. Travel back in time - Explore Winnipeg's famous exchange district, 20 city blocks that are home to over 150 heritage buildings from the early 1900s. Located in the heart of downtown Winnipeg, this architectural treasure is home to restaurants, clubs, shops and is a walker's paradise.
20. Home Brew! - if you enjoy the taste of a nice, cold beer, wet your whistle at one of Manitoba's microbreweries. From pale ale to strong stouts, Manitoba's independent brew masters know how to pour a pint that will put a twinkle in your eye and a smile on your face.
21. Manitobans embrace diversity and know that multiculturalism is a strength - for our communities, and our economy.