The Winnipeg Blue Bombers are asking you to be more than a bystander.
The Winnipeg Blue Bombers and the Manitoba government are working together to help stop violence against women. Watch the videos to see what the players have to say. Then find out how you can make a difference by clicking on TAKE ACTION.
Mothers, wives, girlfriends, sisters, daughters and friends are being harmed by violence and abuse. The abuse also has devastating effects on the children who live in homes where abuse is taking place. Families, friends, and others who care about a woman being abused, are also affected.
Why this campaign talks to men?
Violence against women is not only a women's issue, it's also a men's issue. The vast majority of men don't abuse women and don't condone abuse. However, the reality is that most sexual and domestic violence is committed by men against women.
Men who don't abuse can make a difference.
All men can help create a culture where abuse is not accepted. By speaking out, men can be allies in preventing violence against women.
TAKE ACTION! Find out what you can do.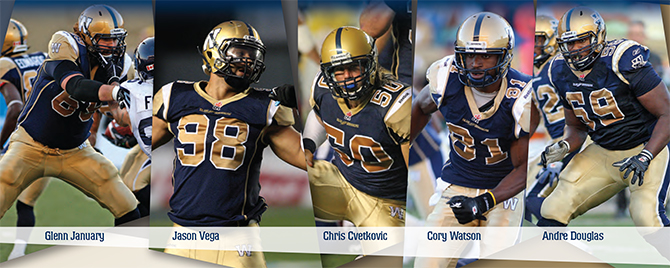 Watch the videos to see what the players have to say.
---
Special thanks
The 'Be More Than a Bystander' theme is used with permission from the Ending Violence Association of B.C. and the B.C. Lions Football Club who created the tagline as part of their campaign to break the silence surrounding violence against women in British Columbia.