SAFETY ALERT:
If you are in danger, please use a computer in a safe place or call 911. You can leave this site quickly by clicking on Quick Escape
---

Is Your Relationship Healthy? Break the Silence.
Not sure if you're in a healthy relationship? Click on the toolkit and watch these videos as young men and women share what they bring to a healthy relationship and what is expected in return. These videos were created by The Broadway Neighbourhood Centre's JustTV program and the Manitoba government.
What does a healthy relationship look like?
Healthy relationships are based on mutual trust where both partners are supportive of each other and respect each other's privacy; both partners should feel safe. Being in a healthy relationship means both partners are able to speak about things that are bothering them and both partners listen and support each other as equals. Both partners in a healthy relationship are able to have friends and interests outside of their partner.
Every one deserves to be in a healthy relationship free from violence and abuse.
Which of these sounds like your relationship?
> You and your partner feel safe and share how each other are feeling.
> You and your partner listen to and respect each other.
> You can spend time apart, pursuing separate interests and friends.
> You can disagree and talk to each other about it in a respectful way.
> Your disagreements often turn into fights.
> Your partner is jealous if you talk to other guys or girls.
> You are embarassed to say how you are feeling because your partner will not care.
> Your partner treats you with disrespect, ignores you are makes fun of you.
> Your partner orders you to not talk to other guys or girls.
> Your partner does not allow you to spend time doing things on your own.
Violence is a serious issue.
Dating violence is a very real and serious issue. Early experiences of dating violence can have an impact on future patterns of violence for both victims and abusers.
Abuse can take the form of:
Emotional abuse such as making threats, jealousy, criticizing, degrading or insulting someone;
Physical abuse including shoving, slapping, choking, punching, kicking, biting, burning, hair pulling, and threatening someone with a weapon;
Sexual abuse including sexual acts without consent, unwanted touching and sending unwanted sexual images electronically
Stalking or controlling who you see and where you go.
If you're experiencing any abuse, you're not alone. Statistics show that:
See how local youth are helping raise awareness about violence against women.
Sacred Seven Healthy Relationship Program
Manitoba Status of Women and the Canadian Women's Foundation were proud to fund The Sacred Seven Healthy Relationship Program through the Wii Chiiwaakanak Learning Centre. The Sacred Seven Healthy Relationship Program uses traditional teachings to encourage youth to explore cultural identity, build self-confidence, self-esteem, and foster empowerment and to assist in establishing healthy relationships.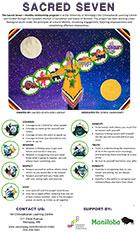 Need Help?
If you think you are in an abusive relationship tell someone a teacher, a counsellor, an Elder, a coach or a family member. If that person doesn't take you seriously, tell someone else.
For confidential help call: 1.877.977.0007
Klinic Crisis Line is 204-786-8686 or 1-888-322-3019 Kids Help Phone is 1-800-668-6868
If you think you are in immediate danger call 911 now.