Francophone Affairs Secretariat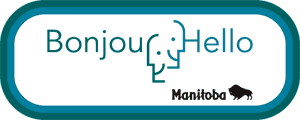 The Francophone Affairs Secretariat, established in 1981, has a mandate to advise the Government of Manitoba, and the Minister responsible for Francophone Affairs in particular, on the development of government services in the French language, and on matters relating to the French Language Services policy in general.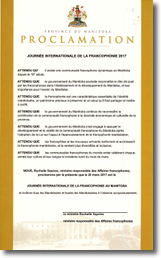 The Secretariat facilitates, guides and monitors all government department activity concerning French language services. It serves as a liaison between the Government and French-speaking organizations in the province.
The Secretariat provides assistance and guidance to the administrative bodies covered by the French Language Services policy.
The Secretariat coordinates the development of the annual appendices to the Canada-Manitoba Agreement on French-Language Services.
The Secretariat assumes responsibility for matters relating to organizations (provincial, national, international) whose role it is to promote the French language and culture.
The Secretariat also deals with representations or complaints from the public about French language services.
Direct inquiries to the:
Francophone Affairs Secretariat
Room 46 - Legislative Building
Winnipeg, Manitoba
R3C 0V8
Phone: (204) 945-4915
Fax : (204) 948-2015
FLS-SLF@leg.gov.mb.ca
Teresa Collins, Executive Director
Hélène Fisette, Assistant Director
Renelle Boissonneault, Acting Bilingual Service Centres Coordinator