Historic Resources Branch
Manitoba Heritage Council Commemorative Plaques
Thompson Nickel Discovery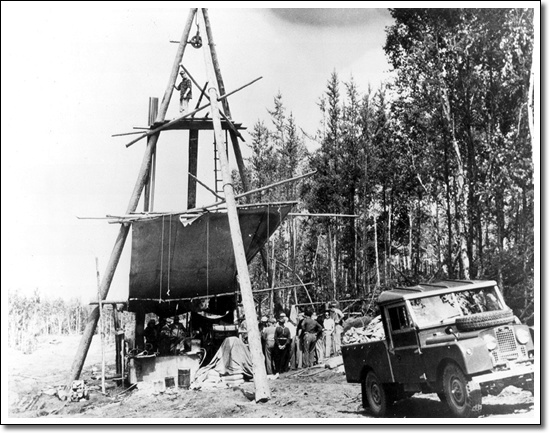 After ten years of extensive aerial surveys, the International Nickel Company (INCO) announced in 1956 the discovery of a large, high-grade ore deposit south of the Burntwood River.
The magnitude of the nickel discovery led Manitoba to negotiate a comprehensive agreement with INCO to ensure the orderly growth of a new single-resource community, named after the company's Chairman, Dr. John F. Thompson. Separate negotiations led to the construction of two railway branch lines and the Kelsey Generating Station on the Nelson River, both essential to the nickel-refining operation. On March 26, 1961, the first integrated nickel mining, smelting, concentrating, and refining complex in the Western Hemisphere was officially opened.
Thompson's location significantly altered the culture and geography of northern Manitoba. New roads opened the north for recreation, tourism, and commerce. The Thompson mine and smelter complex became the largest in Manitoba and a major contributor to the provincial economy.