Historic Resources Branch
Manitoba Heritage Council Commemorative Plaques
Wawanesa Mutual Insurance Company Building
102 – 4th Street
Wawanesa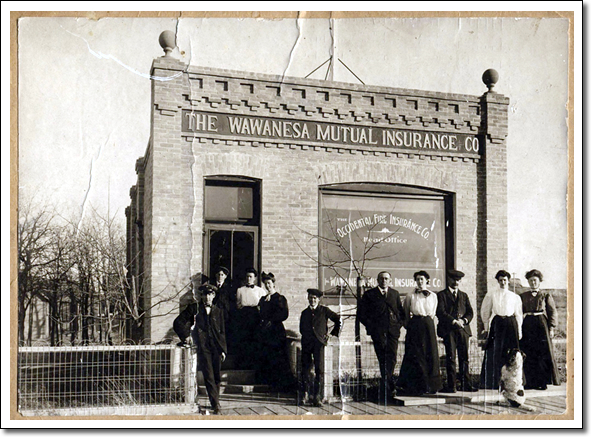 The Wawanesa Mutual Insurance Company Building was constructed in 1901 as the main office for what was to become one of Canada's largest property and casualty insurers.
Established in 1896 by Alonzo Kempton and Charles Kerr, with the support of local farmers, Wawanesa Mutual now maintains its Executive Offices in Winnipeg and has branches across Canada and in the United States. The company still maintains its Head Office in Wawanesa, in a building constructed across the street in 1930, and continues to be a mainstay of the Wawanesa-area economy. The community proudly hosts the Annual Meeting of its Board of Directors.
The original small building of 1901, with its 1907 addition, is a typical representative example of an early twentieth-century rural commercial building. The structure's confident facade, simple but detailed brickwork, and corner location reflect both the optimism of the company's early officers, as well as the practical instincts that allowed them to grow and prosper over the succeeding century.