Historic Resources Branch
Manitoba Heritage Council Commemorative Plaques
Holy Ghost Polish Catholic Church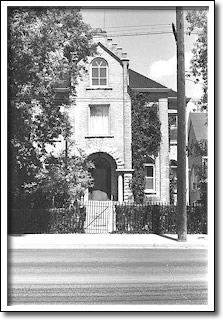 The first Polish Catholic parish in Manitoba was founded here by Archbishop Adélard Langevin in 1898 to serve Poles, Ukrainians, Germans, and Slovaks residing in Winnipeg's North End. The parish was established when two Polish priests, Fathers John and Albert Kulawy, of the Oblates of Mary Immaculate religious order, arrived in Winnipeg.
A wood frame Gothic Revival church was built on this site during 1899-1900. It was veneered in brick in 1901 and doubled in size with the addition of transepts, a sanctuary, and a sacristy in 1905-06. The parish became the focal point of Polish culture in Manitoba following the construction of the first Polish school in Canada in 1902 and a rectory in 1903. It served as the base for Oblate missionary activity in Polish communities across Western Canada.
A new school was opened in 1958. The church and rectory were demolished in 1986 to make way for the present church.