Historic Resources Branch
Manitoba Heritage Council Commemorative Plaques
Thomas George (Tommy) Prince (1915-1977)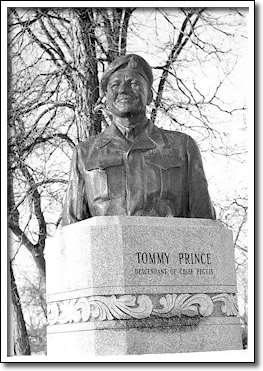 Manitoba's most-decorated Aboriginal war veteran, Sergeant Tommy Prince of the Brokenhead Ojibway Nation, was born at Petersfield on October 25, 1915. He enlisted in 1940, and served in the Royal Canadian Engineers, the 1st Canadian Parachute Battalion, and the First Special Service force—part of the famed "Devil's Brigade." For exceptional bravery he received the Military Medal and the Silver Star (U.S.A.). He also received six service medals.
Prince served with the Princess Patricia's Canadian Light Infantry during the Korean War, for which he received the Korean, Canadian Volunteer Service, and United Nations Service medals.
In civilian life he was an entrepreneur and a highly-respected advocate of increased educational and economic opportunities for Aboriginal peoples, and the honouring of treaty and Aboriginal rights.