Historic Resources Branch
Manitoba Heritage Council Commemorative Plaques
Old St. James Anglican Church
540 Tylehurst Street,
Winnipeg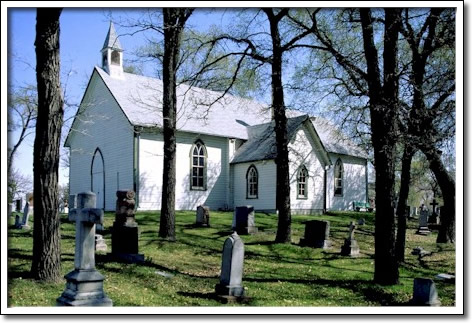 In 1850, Reverend W.H. Taylor was instructed by the Bishop of Rupert's Land, The Right Reverend David Anderson, to establish a church for the settlement expanding westward along the banks of the Assiniboine River.
On June 8, 1853 the cornerstone of the new church was laid and by the end of the year the large log building was completed. Located on high ground, this site was chosen for its association in the minds of the settlers with shelter and deliverance from the devastating spring floods of 1826 and 1853. Consecrated as St. James Church on May 29, 1855, it became the focal point of settlement along the Assiniboine River and gave its name to the surrounding area.
St. James Anglican Church is one of the oldest buildings in Winnipeg, and the oldest surviving wooden church in Western Canada. In 1922, a large contemporary style replacement for Saint James Church was constructed nearby. Old Saint James Church, however, continues to be used for supplementary summer services and weddings.