Historic Resources Branch
Manitoba Heritage Council Commemorative Plaques
Stonewall Post Office Building
36l Main Street,
Stonewall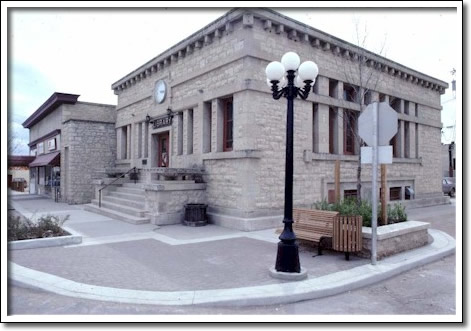 This building is Manitoba's foremost example of Prairie Style architecture and only known surviving example of Prairie Style institutional architecture in Manitoba. It was designed by Francis Conroy Sullivan (1882–1929), one of Canada's pioneer practitioners of this style. His inspiration was Frank Lloyd Wright (1869–1959) the renowned Chicago architect and originator of the Prairie Style which achieved widespread acceptance from 1900–1914.
The Prairie Style was predominantly employed in domestic architecture, and in small banks, libraries, schools and churches. Prairie Style was characterized by a low box-design which incorporated strong horizontal lines within a balanced and symmetrical façade. It often featured patterned ornamentation in coloured terra cotta, leaded stained-glass windows and skylights decorated with geometric patterns.
The Dominion Department of Public Works built the post office during 1914–15 using local Stonewall formation limestone. It was used as a post office until 1978.