Historic Resources Branch
Manitoba Heritage Council Commemorative Plaques
Ukrainian Labor Temple
591 Pritchard Avenue,
Winnipeg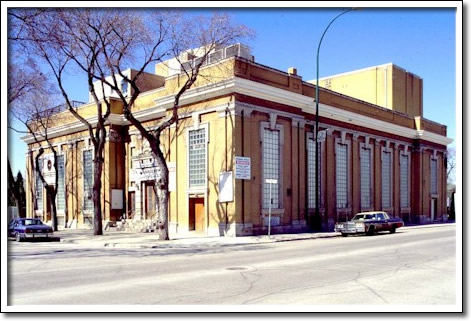 Constructed in 1918-19, this is the first and largest Ukrainian Labor Temple in Canada, built primarily by volunteer labour and financed by donations. Built to a Neo-Classical design prepared by Robert E. Davies of Winnipeg, the Temple contained an auditorium and balcony to seat 1,000 people, as well as classrooms, library and printshop. A 1926 addition provided space for a new printing plant and offices for the Ukrainian Labor-Farmer Temple Association. It remains the national headquarters for the Workers Benevolent Association established at the Temple in 1922.
The Temple was a focus for Ukrainian culture and worker and farmer political activism. As a rallying centre for the trade union movement, it was raided by the police during the 1919 Winnipeg General Strike. The Temple remains the only surviving labour hall associated with the turbulent events of the Strike. The Ukrainian Labor News and other Ukrainian language publications were prepared and distributed from here.
The unity of working people is symbolized over the entrance by two clasping hands reaching across the globe, underscored with Workers of the World Unite.