Historic Resources Branch
Manitoba Heritage Council Commemorative Plaques
Wigwam Restaurant and Park Theatre
Riding Mountain National Park
Wasagaming Drive,
Wasagaming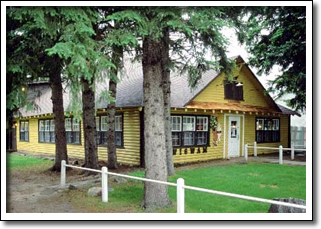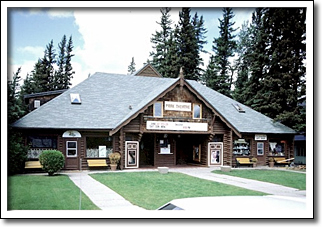 Designation Date: October 1, 1992
Designation Authority: Honourable Bonnie Mitchelson,
Minister of Culture, Heritage and Citizenship
Present Owner: privately owned
These buildings are striking examples of a rustic architectural style that shaped the character of Wasagaming during its formative years. Rustic buildings, common to Canada's national parks in the 1930s, were constructed with peeled logs and fieldstone, to create picturesque additions to resort communities. An abundance of timber and skilled local craftsmen produced Wasagaming's charming rustic log buildings.
The Wigwam Restaurant was constructed in 1928–29 by its owners, O.J. Gusdal and Ernst Gusdal, employing Swedish craftsmen. The large rectangular wood-frame structure is sheathed in horizontal split-log siding. The interior walls and intricate hipped ceiling are covered in golden-hued, horizontal log siding.
The Park Theatre was built in 1936–37 of saddle-notched logs to designs prepared by the National Parks Architectural Division. It was the only log cinema built in a national park, if not in all of Canada. The theatre auditorium features exposed log beams and rafters with decorative wrought ironwork.