Historic Resources Branch
Manitoba Heritage Council Commemorative Plaques
Robert A. Davis
1841–1903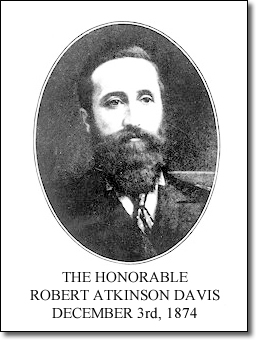 R.A. Davis, Premier of Manitoba 1874-78, arrived in the Red River Settlement from Quebec in 1870. He bought the Emmerling Hotel and saloon formerly located on this site. Renaming it the Davis House, he expanded it to include a barber shop, billiard hall, and store. A founding member of the Winnipeg Board of Trade, he served as a trustee for the Protestant School Board and on local citizens' committees.
Elected to the Manitoba Legislature in April 1874, Davis engineered the resignation of the administration of Henry Joseph Clarke. The formation of the new Cabinet under Marc-Amable Girard resulted in the introduction of responsible government in Manitoba. Davis became Premier in December, 1874, following Girard's resignation. He provided moderate and stable government, achieved economic development, obtained better financial terms from Ottawa, and eliminated the provincial debt. Davis resisted Anglo-Canadian agitation for the elimination of the rights accorded French-speaking and Metis residents by the Manitoba Act.
He retired from politics in 1878, sold his hotel and moved to Chicago, where he became a prosperous real estate developer. The Davis Hotel was demolished in 1890.