Southern Health-Santé Sud
On this page:
---
COVID-19 Cases in Southern Health-Santé Sud
Map of COVID-19 Cases and Risks for All of Manitoba
---
Additional Restrictions in Southern Health-Santé Sud

Personal Care Homes and Assisted Living Facilities in Southern Health-Santé Sud at CRITICAL
Outbreak declared/Visitor restrictions in place.
Additional Information on Protocols for Personal Care Homes
Heritage Life Personal Care Home, Niverville
---
Possible public exposures to COVID-19 in Southern Health-Santé Sud
If you visited one of these sites on the dates/times below, you do not need to self-isolate. However, you should self-monitor for symptoms and seek testing if symptoms develop.
Fact Sheet on Self-monitoring and Possible Public Exposures to COVID-19 (pdf)
Other Exposures
Possible public exposures are identified through case investigations conducted by public health officials. While no active public exposures have been identified at this time, members of the public are encourage to follow the fundamentals.


School Exposures
For current schools exposures in Manitoba visit:
COVID-19 Dashboard: School-Aged Cases and School Staff Cases in Manitoba


Past Exposures:
---
Additional Resources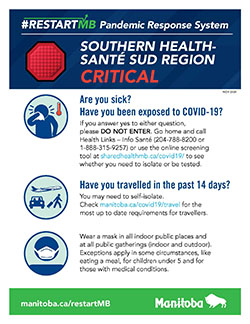 Southern Health-Santé Sud - Critical Level
Mask Use in Public Spaces
Mask Use in Restricted/Private Spaces