Program Results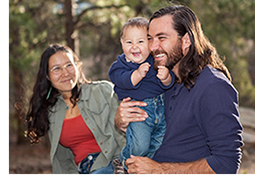 Having access to ongoing care from a home clinic who knows you and your health needs results in better care and better health outcomes – which contributes to a more cost-effective and sustainable health system over the long-term.
On average, Family Doctor Finder helps people find a home clinic in a location that works for them within 30 days. (Unusual spikes in demand, operational adjustments due to pandemic response, clinic closures and/or the sudden departure of providers can impact that time frame, with match rates returning to normal once those issues are addressed.)
How is Family Doctor Finder doing right now?
As of December 2021 (statistics based on registrants without a family doctor or nurse practitioner at time of registration):

In 2021, approximately 54 per cent of Manitobans without a home clinic who registered with Family Doctor Finder have been matched within 30 days of registration. Click here to see a year-over-year quarterly comparison.
Since the program began in 2013, more than 90 per cent of all Manitobans without a provider who registered with Family Doctor Finder had been matched (more than 208,000 people who did not have a provider).
Family Doctor Finder would like to hear from you
Family Doctor Finder is working continuously to enhance the service it provides to people in Manitoba. If you have used Family Doctor Finder, we would love to hear about your experience. Please let us know how we're doing by emailing us at: FDF@gov.mb.ca.
Family Doctor Finder is part of a broader strategy
Family Doctor Finder is just one part of a broader strategy to build a more robust, accessible and coordinated primary care system for Manitoba families, that includes introducing new and innovative models of care that help to better meet the needs of patients including: Home Clinics, My Health Teams and Mobile Clinics among others.
Service delivery may be affected in light of COVID-19.
For additional information, visit: manitoba.ca/covid19/

Family Doctor Finder
Manitoba Health
Tel: 204-786-7111
Toll-free: 1-866-690-8260
Email: fdf@gov.mb.ca