Manitoba Healthy Food in Schools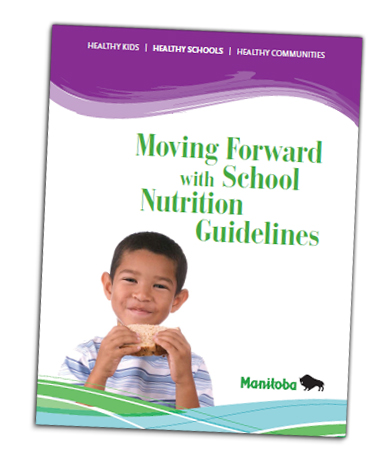 One of the key focus areas of Manitoba's Healthy Schools Initiative is healthy eating. Healthy Schools and the Manitoba Healthy Food in Schools initiative are always looking at ways to support schools in promoting healthy eating and helping students develop healthy relationships with food.
In 2006, the Manitoba government released the Manitoba School Nutrition Handbook: Getting Started with Guidelines and Policies. This new document, Moving Forward with School Nutrition Guidelines, was released in February 2015 and replaces the 2006 Guidelines. The Guidelines apply to foods sold in schools or provided by schools in Manitoba and are divided into six areas of focus:
Approaching school food and nutrition in a comprehensive manner ensures:
Classroom curriculum is respected
Resources are used in an efficient way
Contradictory messages are minimized
** These guidelines are not intended to evaluate the food students bring or parents send to school. **
Manitoba Healthy Food in Schools provides complimentary services and resources to all provincially funded schools to promote healthy eating and to create a positive school nutrition environment in a comprehensive way.




Schedule a school or division appointment with a Registered Dietitian to receive support in assessing, developing, and implementing a school food and nutrition policy.  In addition to policy support, tailored advice can help schools in fostering a healthy eating environment for all students and staff.  Food and nutrition policy and programs are an important part of your school plan and can be integrated within existing wellness and mental health programs.  
Contact a Registered Dietitian today, call the Toll-Free Line 1–888–547–0535.


Request a capacity building webinar or in-person presentation for administrators, teachers, those who work hands on with food, or parent councils.   Choose from topics such as 'how to create, implement and monitor a policy', 'how to implement the School Nutrition Guidelines', or 'how to build healthy school food and nutrition environments'.  Workshops can also be tailored to meet the individual needs of your school or division.
Moving Forward with School Nutrition in Manitoba Webinar
Target Audience: Manitoba School Board Trustees
Objectives: To discuss the importance of nutrition for the school-aged population, as well as resources available in Manitoba that can be utilized to make a positive difference in the health of our province's future.
Length of presentation: 30 minutes