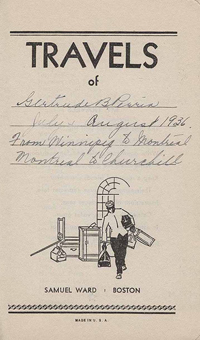 Gertrude Perrin
Gertrude Perrin (1903-2001) was a spirited and independent woman who embarked on an extraordinary journey during the summer of 1936. A teacher from Emerson, Manitoba, she was one of a small group of people to travel aboard the HBC ship RMS Nascopie as a tourist. She travelled for seven weeks in arctic waters to isolated outposts with limited modern conveniences.
Her diary and scrapbook reveal a great interest in the environment, landscape and people of the Canadian North. These writings, however, also provide a glimpse into the life of a young, working woman of the 1930s - an adventure-seeker who frequently enjoyed socializing (dancing and card-playing) with other passengers in the captain's mess, and activities such as golf and mountain climbing with fellow Nascopie travelers.
She was not alone in her fascination with the North; the lure of the unknown arctic and the romance of the fur trade had a strong appeal to many, and seemed to be embodied by the Nascopie. This small icebreaker made a yearly trek to over 35 northern posts bringing mail, personnel and supplies, and thus continuing the HBC's centuries' old tradition of "trading into the bay."
Find out more about Gertrude Perrin and her journey aboard the R.M.S Nascopie. What was it that fascinated her about traveling in the far North?
Find out more... search Gertrude Perrin in the Keystone Archives Descriptive Database