The Speech from the Throne in Manitoba signals that the government is opening a new legislative session and summarizes what the government expects to achieve during the session.
The Honourable Anita R. Neville, P.C., O.M., Lieutenant-Governor of the Province of Manitoba delivers the Speech from the Throne to open the First Session of the 43rd Manitoba Legislature on November 21, 2023.
---
---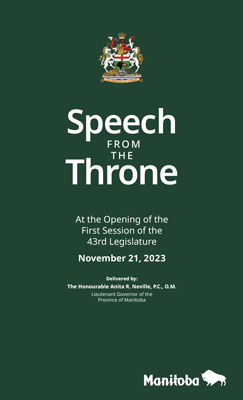 HTML version | pdf version (870 KB)
The Manitoba government, joined by community leaders from across the province, laid out its plan to work together, strengthen health care, lower costs for families and grow the province's low-carbon economy with a geothermal home heating program in the speech from the throne, `A New Day in Manitoba.'
The speech from the throne sets out a course to:
make Manitoba a leader in the low-carbon economy with an agreement from the federal government to deliver funding for a geothermal heat pump program that will connect homes across Manitoba with low-carbon, affordable energy and offer new opportunities to train the next generation of energy workers;
reduce wait times for surgeries and MRIs by bringing high-quality surgical care back to Manitoba's public health-care system with new surgical slates and new diagnostic services;
reduce the backlog in hospitals by expanding services at Grace Hospital, Health Sciences Centre Winnipeg, Concordia Hospital and Brandon Regional Health Centre;
provide immediate relief to families by freezing hydro rate increases for one year and cutting the gas tax;
grow Manitoba's economy and create good jobs by encouraging investments in Manitoba industries like value-added manufacturing, trade and natural resources;
take action to bring needed relief to beef producers on Crown land leases;
work with front-line organizations, the business community and all levels of government to help Manitobans struggling with homelessness; and
reset the relationship with Indigenous governments by working together on priorities in health care, education and economic reconciliation.
---
News conference with Premier Wab Kinew - November 21, 2023
---
What is the Speech from the Throne?
The Speech from the Throne is both practical and ceremonial. On the practical side, it signals that the government is opening a new legislative session.
---
Latest News
November 21, 2023
Manitoba Government Presents Throne Speech Welcoming `A New Day in Manitoba'
November 20, 2023
First Session of the 43rd Manitoba Legislature to open Tuesday, Nov. 21 With Speech from the Throne
November 2, 2023
Speech from the Throne to be Delivered Nov. 21