Events


Past Events
In celebration of Manitoba Day, the Archives of Manitoba is launching a new feature online - digitized films and videos from our holdings. To start we are featuring 6 films that illustrate a range of activities and iconic sites throughout Manitoba.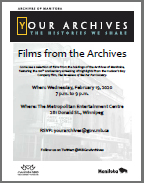 Films from the Archives
Wednesday, February 19 at 7 p.m.
Come enjoy an evening of selected films and videos from the Archives of Manitoba, including the Hudson's Bay Company Archives.
Indigenous Afternoons in the Archives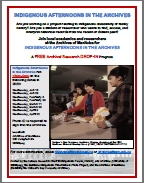 Wednesday afternoons from 1 p.m. to 4 p.m. (bi-weekly until April 22)
Learn from local researchers and academics, who will be on site to assist clients with Indigenous-focused research. These bi-weekly events are being held in collaboration with the Canada Research Chair in Indigenous People, History, and Archives (University of Winnipeg) and the Manitoba Indigenous Tuberculosis Photo Project.
Saturdays @ the Archives
Last Saturday of the month from 9 a.m. to 4 p.m. (until April 25)
Explore the Archives Research Room during these extended hours. See Location and hours for more information.