Health, Seniors and Active Living
Baby Friendly Manitoba: Information for Parents
Baby Friendly Manitoba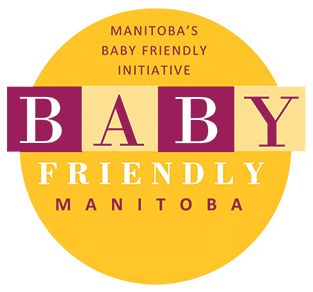 Manitoba promotes, supports, and protects breastfeeding. Manitoba Health, Seniors and Active Living has been working directly with RHAs and the Breastfeeding Committee for Canada (BCC) to improve breastfeeding policy and to implement the Baby Friendly Initiative. Provincial hospitals, community health centres, and public health services working with mothers, babies and families are taking steps to achieve the evidence based best practice "Baby Friendly" designation. The Baby Friendly Initiative is
a coordinated program that enables hospital/maternity/community facilities to protect, promote & support breastfeeding
an international accreditation process which evaluates hospital/birth centre/community policies/practice of breastfeeding.
A Baby Friendly facility strengthens and demonstrates commitment to family-centred care & increases family and staff satisfaction of care.
The BFHI protects, promotes and supports breastfeeding through the Ten Steps to Successful Breast-feeding developed by UNICEF and the World Health Organization. The Breastfeeding Committee for Canada has integrated The Ten Steps for Baby Friendly Hospitals with The Seven Point Plan for Community Health Services. In order to achieve Baby Friendly designation, every hospital / maternity / community facility must:
Have a written breastfeeding policy that is routinely communicated to all health care providers and volunteers.
Ensure all health care providers have the knowledge and skills necessary to implement the breastfeeding policy.
Inform pregnant women and their families about the importance and process of breastfeeding.
Place babies in uninterrupted skin-to-skin contact with their mothers immediately following birth for at least an hour or until completion of the first feeding or as long as the mother wishes: encourage mothers to recognize when their babies are ready to feed, offering help as needed.
Assist mothers to breastfeed and maintain lactation should they face challenges including separation from their infants.
Support mothers to exclusively breastfeed for the first 6 months, unless supplements are medically indicated.
Facilitate 24 hour rooming-in for all mother-infant dyads: mothers and infants remain together.
Encourage baby-led or cue-based breastfeeding. Encourage sustained breastfeeding beyond six months with appropriate introduction of complementary foods.
Support mothers to feed and care for their breastfeeding babies without the use of artificial teats or pacifiers (dummies or soothers).
Provide a seamless transition between the services provided by the hospital, community health services and peer support programs. Apply principles of Primary Health Care and Population Health to support the continuum of care and implement strategies that affect the broad determinants that will improve breastfeeding outcomes.
For more information about the Baby Friendly Initiative in Manitoba, please contact:
Dawn Ridd
Manitoba Health, Seniors and Active Living
300 Carlton Street
Winnipeg, MB R3B 3M9
Email: Dawn.Ridd@gov.mb.ca