Health, Seniors and Active Living
Baby Friendly Manitoba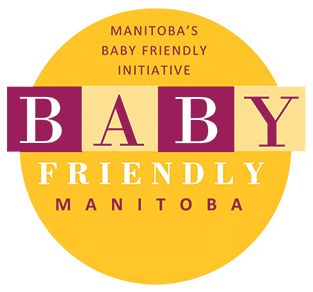 Manitoba promotes, supports, and protects breastfeeding. Manitoba Health, Seniors and Active Living has been working directly with RHAs and the Breastfeeding Committee for Canada (BCC) to improve breastfeeding policy and to implement the Baby Friendly Initiative. Provincial hospitals, community health centres, and public health services working with mothers, babies and families are taking steps to achieve the evidence based best practice "Baby Friendly" designation. The Baby Friendly Initiative is
a coordinated program that enables hospital/maternity/community facilities to protect, promote & support breastfeeding
an international accreditation process which evaluates hospital/birth centre/community policies/practice of breastfeeding.
A Baby Friendly facility strengthens and demonstrates commitment to family-centred care & increases family and staff satisfaction of care.
The BFHI protects, promotes and supports breastfeeding through the Ten Steps to Successful Breast-feeding developed by UNICEF and the World Health Organization. In order to achieve Baby Friendly designation, every hospital/maternity/community facility must meet The BCC BFI 10 Steps and WHO Code Outcome Indicators for Hospitals and Community Health Services.
Manitoba Baby Friendly Pledge:
We pledge to support breastfeeding families and follow the baby friendly steps. The baby friendly steps are guided by the World Health Organization and Breastfeeding Committee for Canada to support the infant feeding choices of all families.
We have a commitment to protect, promote and support breastfeeding
We educate staff to protect, promote and support breastfeeding
We offer all mothers clear evidence so they can make a fully informed choice as to how they feed and care for their babies
We help each mother and baby get breastfeeding off to a good start by placing the baby skin-to-skin with mother immediately after birth
We offer mother and baby help while learning this new skill, and provide support on maintaining milk supply if baby and mother are separated from each other
We support mothers to feed their babies only breast milk for the first 6 months, introduce solid foods at that time, and continue breastfeeding for two years and beyond
We welcome mothers to breastfeed anytime, anywhere
We encourage mothers to breastfeed their baby for as long and as often as the baby needs
We discourage use of soothers and bottles with nipples for healthy babies as they may cause problems with breastfeeding and with mother's milk supply
We provide individual instruction and support to families who have made a fully informed choice not to breastfeed.
We work with our community to support breastfeeding in Manitoba
We ensure that materials distributed to the public by staff meet Baby Friendly Initiative standards
BCC BFI Designated Facilities and CHS in Manitoba
The Breastfeeding Committee for Canada awards BFI designation, a worldwide program of the World Health Organization and UNICEF to hospitals and community health services that put policies and practices in place to protect, promote, and support breastfeeding. Hospitals and community health offices that are Baby Friendly accredited are recognized, as those most able to provide the help mothers and babies need with breastfeeding and all infant feeding. These practices strengthen mother-baby and family relationships for all babies, not only those who are breastfed.
On January 29, 2013 the Breastfeeding Committee of Canada (BCC) informed Bethesda Regional Health Centre (BRHC) that they had passed their Baby Friendly assessment and had become Manitoba's first Baby Friendly Initiative (BFI) Hospital. Bethesda was the first hospital in Manitoba and the twenty-eighth in Canada to receive the prestigious BFI designation.
On June 29, 2015 The Pas Primary Health Care Centre passed their Baby Friendly Initiative (BFI) assessment and became Manitoba's second Baby Friendly Initiative (BFI) site and first Community Health site.
On May 18, 2017 Flin Flon Primary Health Care Centre was accredited by the BCC as Manitoba's third Baby Friendly Accredited site.
World Breastfeeding Week
World Breastfeeding Week, promoted by an the World Alliance for Breastfeeding Action (WABA),is celebrated internationally. Each year a theme highlights a specific theme and allows for an international show of support as moms celebrate in various activities. Canada celebrates WBW from October 1 - 7. Manitoba Health has proclaimed WBW every year since 2001.
For more information about the Baby Friendly Initiative in Manitoba, please contact:
Dawn Ridd
Manitoba Health, Seniors and Active Living
300 Carlton Street
Winnipeg, MB R3B 3M9
Email: Dawn.Ridd@gov.mb.ca
NEXT: Baby Friendly Manitoba Implementation Committees