Historic Resources Branch
Manitoba Heritage Council Commemorative Plaques
Edward Lancaster Drewry (1851 - 1940)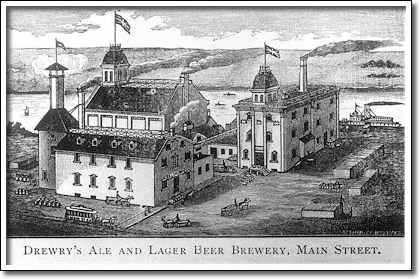 E.L. Drewry came to Winnipeg in 1877 to take over the operation of the Redwood Brewery on this site. Within four years he had purchased the brewery and founded Drewry's Limited, known throughout Western Canada for its lagers and ales.
Drewry's commercial activities led to a prominent role in the political, financial, and social life of Winnipeg. He served as Alderman, 1883–84, Conservative/Independent M.L.A. for North Winnipeg, 1886–89, and first Chairman of the Public Parks Board, 1894–97, which gave the city its magnificent elm trees. He was appointed to the Boards of several manufacturing and financial firms, held a seat on the Winnipeg Grain Exchange, and served as President of the Board of Trade and the Manitoba Branch of the Canadian Manufacturers' Association.
Drewry was active in charitable organizations and amateur athletics and was an influential member of Western Canada's commercial and social elite.