Historic Resources Branch
Manitoba Heritage Council Commemorative Plaques
Manitoba's First Explorers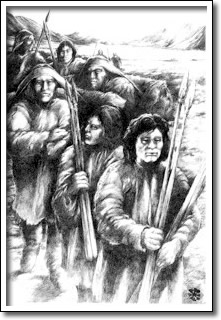 Manitoba's first explorers were Aboriginal people who entered the region from the south over 11,000 years ago. At that time, only a small portion of the province was accessible, as most of it was covered by an ice sheet or glacial lakes.
These first people hunted now-extinct species of Ice Age animals and manufactured a distinctive style of stone spear point. The scarcity of such artifacts indicates that the earliest explorers were members of a small, highly mobile population whose territory included present-day southern Manitoba and Saskatchewan.
As time went on, the ice sheet gradually melted and the glacial lakes slowly drained away. The central and northern regions of Manitoba soon supported a variety of plant and animal resources that drew the attention of indigenous hunters and gatherers. By 7,000 years ago, most of the province had been explored and subsequently occupied by successive generations of Manitoba's first people.