Historic Resources Branch
Manitoba Heritage Council Commemorative Plaques
William Lewis Morton (1908-1980)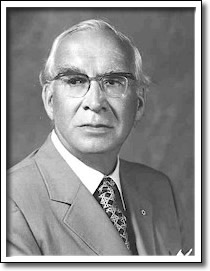 Born near Gladstone on land homesteaded by his father's parents, W.L. Morton became one of Canada's most distinguished writers of history. He graduated from the University of Manitoba in 1932, and became a Rhodes Scholar at Oxford. He was Professor of History at the University of Manitoba for over 25 years, and served as the first provost of University College from 1963 to 1966. Later at Trent University he became Master of Champlain College, Vanier Professor of History and Chancellor.
Always working to know the past as a living presence, Morton encouraged Manitobans to see how their common inheritance shaped the life of their province. "Where so much was unchanged in ceaseless change," he wrote, "the environment and the past, geography and history, were constant and tireless artisans of Manitoban life."
He believed that the historian's duty was not simply to acquire facts but to create and share an imaginative vision of the nation in which we live. Morton's contributions to Canada were recognized in 1969 when he was invested as an officer in the Order of Canada.