Transportation and Infrastructure
Truck Weight Limit Map and Information Guide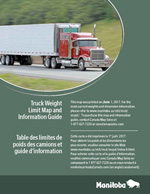 A new edition of the Manitoba Truck Weight Limit Map and Information Guide is now available to the public through Canada Map Sales (November 30, 2022). The map and guide is available in two formats – a book format and a wall map format. The book format is designed for drivers and the wall map is perfect for the office or for dispatch. Order online at canadamapsales.com. You can also visit their sales office at 1007 Century Street in Winnipeg.
The Truck Weight Limit Map and Information Guide is an important resource for people who transport goods on Manitoba highways. The map and guide provides information about highway weight restrictions, bridge clearances, seasonal roadways, ferry crossings, maximum vehicle dimensions, highway traffic inspection stations, regulatory requirements, trucking permits and much more.
Please note that Canada Map Sales cannot provide any information related to the highway classifications and weights.
To obtain any of these information, please contact any of the following:
---