Transportation and Infrastructure
Ferry Schedules
For further information call:
Northern Airports & Marine Operations
310 - 215 Garry Street
Winnipeg, MB R3C 3P3
Telephone: (204) 945-3424
---
STAY SAFE - PLAY SAFE
Keep away from the water's edge
During the early freeze-up this winter, the ferries travel through open channels in the ice. The ice that forms around these channels is thin, soft and very dangerous.

It is important to stay at least 50 metres away from these channels or any open water.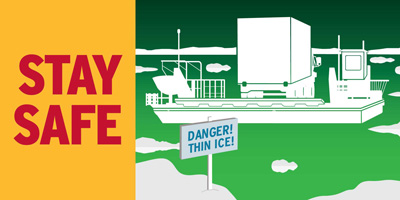 South Indian Lake
M. V. Charles Robert - Out Of Service
C. F. Johnny Paul - Open for the Season

The following schedule is effective as of August 16, 2023 and will continue until August 31, 2023:

Monday to Thursday: 8:00 AM to Midnight
Friday, Saturday and Sunday: 24 hrs operation
Sea Falls - Norway House
Daily 24 hour service
C.F. Gilbert Laugher - Open for the Season
Matheson Island
Daily service from 7:00 am to 11:00 pm
C.F. Ingemar Carlson II - Open for the Season
Split Lake - York Landing
M. V. Joe Keeper - Open for the Season

M. V. Joe Keeper Hours:

EVERY TUESDAY – Closed / Maintenance Day

| Departing From | Departing Time | Arriving to | Arrival Time |
| --- | --- | --- | --- |
| York Landing | 8:00 AM | Split Lake | 10:00 AM |
| Split Lake | 4:00 PM | York Landing | 6:00 PM |


REGULAR SCHEDULE (Wednesday to Monday)

| Departing From | Departing Time | Arriving to | Arrival Time |
| --- | --- | --- | --- |
| York Landing | 8:00 AM | Split Lake | 10:00 AM |
| Split Lake | 10:30 AM | York Landing | 12:30 AM |
| York Landing | 1:30 PM | Split Lake | 3:30 PM |
| Split Lake | 4:00 PM | York Landing | 6:00 PM |