Lake Manitoba Zebra Mussel Detection

Lake Manitoba Zebra Mussel Detection
In late July 2021 Zebra Mussel veligers (larval stage) were detected in water samples collected from Lake Manitoba Narrows. These samples were taken as part of the Aquatic Invasive Species (AIS) Unit's annual surveillance monitoring.
Veligers were found in all 9 samples taken from this area of the lake in quantities ranging from 2 to 12 veligers per sample. This indicates there could be an establishing or reproducing population in the lake.
The Aquatic Invasive Species (AIS) Unit initiated a response protocol which includes:
notifying interest holders;
implementing a containment plan; and
conducting follow-up monitoring to determine the extent of the invasion and level of establishment.
As part of this containment plan - new restrictions are being implemented to prevent the spread of zebra mussels out of Lake Manitoba:
Effective immediately all surface water-users using watercraft and water-related equipment in Lake Manitoba (as well as any tributaries and connected water bodies - up to the first impassible barrier) must be decontaminated before placing it into another water body.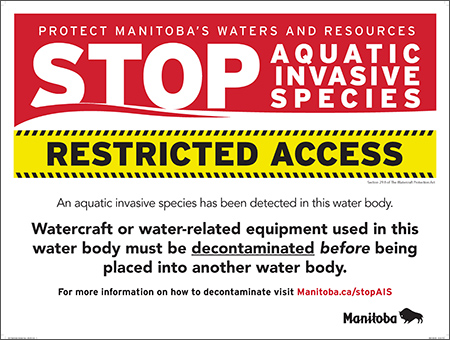 Signage will be placed at access points to Lake Manitoba which will reflect this new measure.
It is essential that all water-users take the necessary steps to prevent the spread of Aquatic Invasive Species.
Provincial watercraft inspection stations can assist surface-water users with inspections and decontaminations. Operating hours and locations of the watercraft inspection stations can be found here.
Additionally the open-water checklist can help you comply with the AIS requirements which apply year round.
---
Other Notices
---
Resources