Your Manitoba Health Card (Registration Certificate)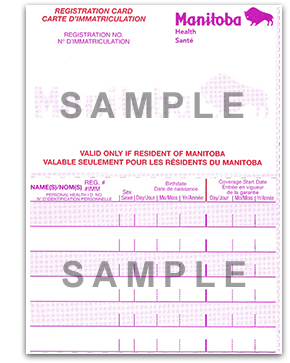 Manitoba Health issues a card (or registration certificate) to all Manitoba residents, which includes a 9-digit lifetime identification number for each family member.
The white paper card has purple and red print, and includes the 6-digit family or single person's registration number, name and address of Manitoba resident, family member's given name and alternate (if applicable), sex, birthdate, effective date of coverage, and 9-digit Personal Health Identification Number (PHIN).
Registration certificates issued by the Insured Benefits Branch confirm eligibility, provided you continue to live in Manitoba. Carry your certificate with you at all times and present it whenever you or your dependants require health services.
Your registration is affected by any change in location or family status. Please report a new address, a marriage, birth, adoption, death, divorce or legal separation to the Insured Benefits Branch.
Registration certificates entitle persons named on the certificate to health benefits. It is an offense under The Health Services Insurance Act to allow a person to use the certificate whose name is not recorded on the certificate. If you lose your certificate, be sure to write or telephone the Insured Benefits Branch for a replacement.
As of April 1, 2019, donor cards are no longer part of the Manitoba Health Card.
In place of the card, information about how to register to be an organ and tissue donor and program contact information will be included with your new Manitoba Health Card.
For more details or to register, please visit www.signupforlife.ca
See also:
Insured Benefits Branch
Manitoba Health
300 Carlton Street
Winnipeg MB R3B 3M9
CANADA
Phone Numbers:
Voice: 204-786-7101
Toll Free: 1-800-392-1207
Fax: 204-783-2171
Deaf Access Line TTY/TDD: 204-774-8618
Residents within the province from outside Winnipeg:
Deaf Access Line TTY/TDD:
Call the Manitoba Relay Service at 711 or 1-800-855-0511 to reach the above number.
Questions? E-mail the Insured Benefits Branch
Residents should carry their registration certificate (Manitoba Health card) at all times to present when they or their dependents require health services.