Become a Certified Public Health Inspector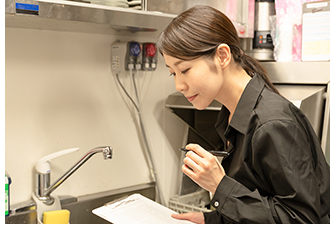 Are you looking for an interesting career where no two days are alike? Do you enjoy working in both an office and community setting? Are you looking for stable work, with salary and benefits? Would you like to help people in community?
Health Protection: The mission of the Health Protection Unit is to protect the health of Manitobans through education and intervention strategies designed to reduce health risks to the public.
Public Health Inspectors are vital members of the community health system whose primary focus is on preventing injury, illness and premature death. They safeguard the well being of both the public and the environment by educating people about public health issues, monitoring facilities and developments, and enforcing public health legislation. They use a broad array of strategies and interventions intended to protect the public's health by minimizing environmental health risks to the population.
Public Health Inspectors respond to environmental health concerns by investigating complaints and inspecting premises to ensure compliance with Regulations made under The Public Health Act and The Smoking and Vapour Products Control Act.
The responsibilities include the following Health Protection programs and services:
How to become a Certified Public Health Inspector
Public health inspectors are certified nationally across Canada through the Canadian Institute of Public Health Inspectors (CIPHI). There are six accredited institutions across Canada that offer the Environmental Public Health Program required for certification. The educational requirements and certification process can be found at www.ciphi.ca. The Health Protection Unit offers practicums for public health inspector students to assist with their national certification.
For job information, see manitoba.ca/govjobs/ and search for Public Health Inspector.
If you are interested in job shadowing with a Public Health Inspector, contact: healthprotection@gov.mb.ca
To see more of Manitoba please visit Travel Manitoba at www.travelmanitoba.com.