Food Handling Establishment Inspections & Health Permits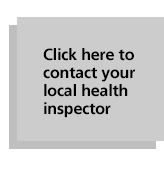 A Food Handling Establishment is any facility or location where food is prepared, stored or served to the general public. This includes:
Restaurants, delicatessens, bakeries, butcher shops, grocery stores, convenience stores
Caterers, take-outs
Food processors, restricted processors
Mobile push carts and food trucks
Farmers markets
Temporary food events
Fairs or festivals that have food
---
Public Health Inspections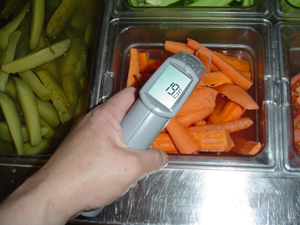 Public Health Inspectors play an important role in ensuring the safety of all food that is sold and distributed throughout the Province of Manitoba. Public Health Inspectors conduct inspections of public eating establishments on a routine and a complaint basis.
Food handling establishments are inspected to ensure compliance with the Food and Food Handling Establishments Regulation under The Public Health Act. Inspections determine if minimum standards and practices are being followed with respect to general food handling, storage temperatures, sanitation, employee hygiene and equipment or food contact surface disinfection procedures for the specific type of processes and foods involved.
Public Health Inspectors pay particular attention to ensuring that food is protected from possible contamination by chemicals or microorganisms and that adequate temperature controls are in place during the heating, cooling and storage of potentially hazardous foods. The general sanitary and physical condition of the premises is also evaluated.
---
Opening a Restaurant or Other Food Handling Establishment
To prepare, sell, distribute food to the public in Manitoba, you must register your food handling establishment and obtain a permit from your public health inspector before operating.
For new food handling establishments or changing ownership of an existing business, complete and submit the Food Handling Permit Registration Form

, your restaurant menu and a detailed floor plan to your area public health inspector.
When operating a food handling establishment, you must ensure compliance with the Food and Food Handling Establishments Regulation.
Submit your detailed floor plans with equipment listed directly to your area Public Health Inspector for review prior to any construction or renovation.
---
Mobile Food Trucks and Push Carts
Mobile food trucks have become more popular in recent years. You will find them at fairs and festivals all across the province, but they still require a health permit and have to comply with provincial food requirements, just like any other restaurant or food establishment.
---
Special Events: Festivals, Fairs and Farmers Markets
Special Events where foods are prepared or served, such as fairs, festivals, craft sales and farmers' markets must register at least 14 days in advance of the event. The registration form will be reviewed by a Public Health Inspector to ensure it meets health requirements. A Health Permit may be required.
---
Bottled Water and Water Vending Machine Guidelines
Under The Public Health Act regulations, the operators of Water Bottling Plants or Water Vending Machines must obtain regulatory approval to process and sell water for domestic purposes. These types of facilities must be designed, operated and maintained in a sanitary manner to ensure that water does not become contaminated and pose a risk to
Public Health.
---
Other Applicable Food Handling Guidelines
---
Emergency Action Plans for Food Establishments
In the event of an imminent health hazard involving interruption of electrical service, water service, contaminated water supply, fire, flood or sewage back up at a food service establishment the following actions should be taken:
Assess the situation. Immediately discontinue operation if a safe operation cannot be maintained.
Notify the Public Health Inspector of the imminent health hazard and discuss alternate procedures to be used. Determine if the issue is widespread.
Follow the Appropriate Emergency Procedures if approved by the Public Health Inspector or remain closed until granted approval to re-open by the regulatory authority. A food establishment that was ordered or otherwise required to cease operations may not re-open until authorization has been granted by the regulatory authority.
---
Links