Personal Care Homes in Manitoba
General Questions
What is a Personal Care Home?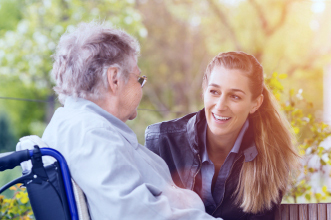 A Personal Care Home (PCH), also known as a "Nursing Home" or "long term care home," provides personal care services to individuals who can no longer manage independently at home with family support and community services.
What services are provided in a Personal Care Home?
The insured personal care services provided throughout Manitoba's 124 licensed personal care homes include the following:
meals (including meals for special diets)

assistance with daily living activities such as bathing, getting dressed and using the bathroom

necessary nursing care

routine medical and surgical supplies

prescription drugs eligible under Manitoba's Personal Care Home Program

physiotherapy and occupational therapy, if the facility is approved to provide these services

routine laundry,  linen and housekeeping services
How do I access a personal care home?
Access to a personal care home is provided through your regional health authority's Home Care program. A Home Care case co-ordinator performs an initial assessment in your home and helps you apply. If you do not have a home care co-ordinator, please contact the home care program in your regional health authority (use link below). If you are in hospital, please speak with the social worker or equivalent.
For a full list of personal care homes in your area, please visit your regional health authority's Personal Care Home Regional Contacts.
For information on insured benefits and residency requirements for personal care home services, please visit The Manitoba Health Services Insurance Plan.
Who pays for the costs of a PCH?
The provincial government (Manitoba Health) and the client or resident who needs the services share the cost of personal care home services. Manitoba Health pays the majority of the cost through the regional health authorities. The personal care home resident pays the other portion of the cost, called a Residential Charge.

How much will I have to pay?
The daily rate, or residential charge is based on the person's net income (minus taxes payable) as reported on their latest Notice of Assessment from Canada Revenue Agency. The person's spouse or partner's income is also included in the calculation.
The residential charge is set yearly, and for 2021-22 ranges from $39.40 to $95.20 per day. More information on residential charges including the online calculation, forms and residential charges booklet or available at Personal Care Services.
Will I have any personal spending money?
Everyone needs spending money (disposable income) for personal expenses. The residential charges rate structure in Manitoba ensures that all residents have a reasonable amount of disposable income for personal needs. After paying your daily residential charge for personal care services, you should still have a certain income left per year; currently the province recommends at least $4,440 per year.
For more information, please see Personal Care Services.
How do I decide which personal care home is best for me?
This is an important discussion to have with your home care case coordinator. If you do not have a case coordinator, contact the home care program in your Regional Health Authority. If you are in hospital, ask to speak to the Social Worker or equivalent staff.
Organizations such as the Long Term & Continuing Care Association of Manitoba  and the Manitoba Association of Residential & Community Care Homes for the Elderly (MARCHE) have additional tools such as questions to ask, and other information that can help inform your decision.
Resources: