One-Year Action Plan (2022 / 23)
In June 2019, the Manitoba government signed the Manitoba-Canada Mortgage and Housing Corporation (CMHC) Bilateral Agreement under the 2017 National Housing Strategy (NHS). Throughout the agreement, Manitoba Housing is required to produce three triennial action plans which include Manitoba's housing context and objectives, use of funds, and associated targets and outcomes.
CHMC has provided provinces and territories with the option of producing a one-year Action Plan for 2022/23. Manitoba has opted to take this approach and is still committed to publishing its second three-year Action Plan (2022/23 – 2024/25) in early 2023.
This action plan represents the period from April 1, 2022 to March 31, 2023. This one-year Action Plan has been designed to bridge the gap between Manitoba's previous plan and lays the groundwork towards the second three-year Action Plan.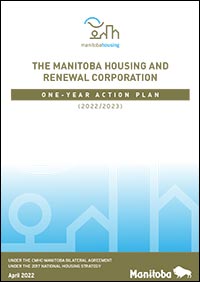 For more information please contact Manitoba Housing:
E-mail at housing@gov.mb.ca
Telephone at: 204-945-4663 or 1-800-661-4663
*Alternate formats available upon request.
---
Previous Action Plans:
---
Manitoba Housing Home
|
Our Programs
|
Find Housing
|
Tenant Resources
|
Our Communities
|
About Us
|
Working with Manitoba Housing
|
Job Opportunities
|
Contact Manitoba Housing
---