Victim Services
Manitoba Justice Victim Services supports victims of serious crimes, as outlined in The Victims' Bill of Rights. This includes victims of domestic violence and other serious crimes, such as murders and sexual assaults. Victim Services also provides support to child victims, witnesses, and families of murdered and missing Indigenous persons. Victim Services offers support to all individuals under the Canadian Victims Bill of Rights.
Victim Services helps people access their rights, understand their responsibilities. They also connect people to other agencies and useful resources, as they move through the justice system. For more information about our programs and services, browse the Get Started bar on the left of this page.
The Compensation for Victims of Crime program provides compensation to victims who suffer personal injury, hardships or expenses as a result of certain crimes. Learn more about the Compensation program.
Please visit the following link to learn more about recent changes to the Manitoba Justice Compensation for Victims of Crime Program
---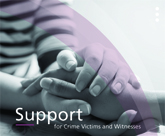 For more information about Victim Services, download the Supports for Crime Victims and Witnesses booklet.
---
For more information about family law and available supports, visit our Family Law website
---
Contact Us
| | | |
| --- | --- | --- |
| Manitoba: | Toll Free | 1-866-484-2846 |
| Winnipeg Region | Winnipeg | (204) 945-6851 |
| |   |   |
| Interlake/Eastman Region | Selkirk | (204) 785-5213 |
|   |   |   |
|   |   |   |
| Central Region | Portage la Prairie | (204) 239-3378 |
|   |   |   |
| South Central Region | Morris | 1-866-484-2846 |
|   |   |   |
| Westman Region | Brandon | (204) 726-7400 |
|   |   |   |
| Parkland Region | Dauphin | (204) 622-5080 |
|   |   |   |
| Norman Region | The Pas | (204) 627-8483 |
|   |   |   |
| Thompson Region | Thompson | (204) 677-6368 |