My Health Teams and Team-Based Care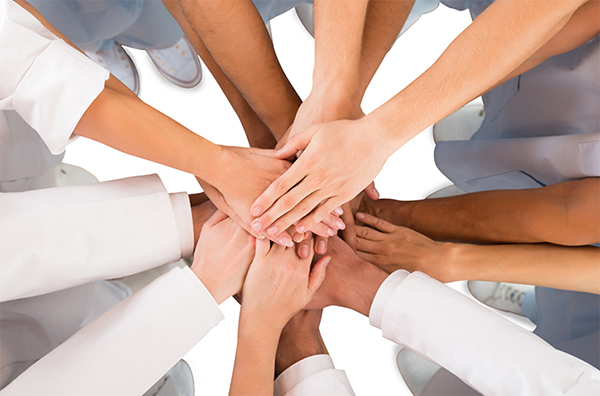 Effective teamwork amongst health care providers can lead to better care for you, the patient. This includes enhanced safety and satisfaction, and reduced illness. Good teamwork can also help reduce staff shortages and worker stress, reduce workloads, and increase job satisfaction.[1]
Each type of health care provider has a unique combination of knowledge, skills and expertise. Teamwork in health care occurs when two or more health care providers work together with you to guide your care. Teamwork means members of the team:
depend on each other;
view themselves as planning and working together for patient-centred care;
benefit from working together to provide your care;
share information which may lead to shared care decisions; and
know when teamwork should be used for excellent patient-centred care.[2]
My Health Teams will develop their care teams around your needs and the needs of communities served by the team. Each team will be a bit different and will be unique. For example, team members may include primary care nurses, nurse practitioners, midwives, dietitians, pharmacists, mental health workers, social workers, spiritual care providers, community developers, exercise specialists, physiotherapists, or occupational therapists.
Another important member of your My Health Team is you. As a patient of a My Health Team, you will be treated as a partner in planning and managing your care, and will be provided with the tools and resources to help you do so.
Teams will use evidence-informed strategies to provide after-hours service; mobile and outreach services; health promotion and wellness; chronic disease management; group sessions; and mental health, public health and home care services.
All members of the team will work with you to help you be as well as you can be, and provide assistance in connecting to other resources in the community to help you to reach your health goals.
---
1 Canadian Health Services Research Foundation, Teamwork in Healthcare: Promoting Effective Teamwork in Healthcare in Canada – Policy Synthesis and Recommendations. June, 2006.
2 Poulton B. Teamwork and team development in health care social care. In Watkins D, Edwards J, Gastrell P. Community Health Nursing. – Frameworks for Practice 2nd edition. Edinburgh: Bailliere Tindall, 2003