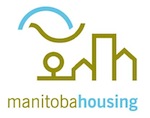 Visitable Housing
Manitoba Housing recognizes that it is extremely important to make homes accessible to persons with mobility impairments. "Visitable Housing" or "Visitability" is the concept of designing and building homes with basic accessibility features. Visitable housing offers a convenient home for residents and a welcoming environment for visitors of all ages and abilities. It assists persons with mobility issues "visit" friends or families and be part of a community, which makes our communities more inclusive.
Visitable housing features refer to:
One level, no-step entrance
Wider doorways and hallways
Wheelchair accessible bathroom on the main level
It does not mean fully accessible
Visitable housing has a number of advantages:
People are able to age in place with minimal costly renovations needed and less need for moving later in life
Less chance for falls at home for those of all ages
Easy access for everyone including persons with disabilities
Convenience of not having stairs. For example those with young children in strollers, moving items or during illness
When visitability is planned from the beginning, costs are low
Manitoba Housing has developed Accessibility and Visitable Housing Guidelines for Residential Units. Visitability is being applied to construction of all new units which receive financial assistance from Manitoba Housing, with 10 per cent of all such new units designed to meet Manitoba Housing accessible design criteria. Where possible visitability is used in the renovation of current social housing units. Manitoba Housing also encourages the use of the guidelines in the private market by making it available to community stakeholders.
Manitoba Housing supports programs that promote accessibility including Renovation Programs, social housing units for persons with disabilities, and has incorporated visitable housing as one of its key features of the Bridgwater neighbourhood in Winnipeg. More information on vistable housing is available at Visitable Housing Canada's website.
---
Canadian Centre on Disabilities Studies Bridgwater Case Study on Visitable Housing Video:
What are VisitAble Homes?


---
Manitoba Housing Home
|
Our Programs
|
Find Housing
|
Tenant Resources
|
Our Communities
|
News
|
About Us
|
Working with Manitoba Housing
|
Job Opportunities
|
Contact Manitoba Housing
---