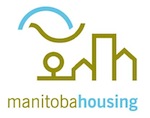 Homeowner Residential Adaptations for Disabilities (RAD)
What is the Homeowner RAD program?
The program provides financial help to low income homeowners to make their home more accessible for a household member who finds it difficult to do everyday tasks in their home due to a disability or physical limitation.


Who is eligible?
Homeowners who own and live at the property for which the application is being made
Households with at least one member having a disability or limitation that makes performing daily living activities difficult
Owners with property taxes paid up to date and without tax arrears
Households with a total gross income that is at or below the program income limit set by Manitoba Housing for the community
Eligibility income limits for Homeowner Renovation Assistance Program (HRAP), Manitoba Emergency Repair Program for Homoeowners (MERPH) and Residential Adaptations for Disabilities (RAD)*
Winnipeg
Brandon
Thompson
MB South
MB North
Household without dependants
$40,500
$39,000
$47,000
$35,000
$37,000
Household with
dependants
$54,000
$52,000
$63,000
$47,000
$49,500

*Effective January 1, 2019
NOTE: Gross household income includes income from everyone 18 years of age and older living at the home. Gross income is the total income before deductions. For this purpose dependant is defined as a person under the age of 22, a person under the age of 26 who is registered in full-time study, or a person of any age who because of cognitive or physical challenges is accepted as a dependent for income tax purposes. MB North refers to locations above the 53rd parallel and MB South refers to locations below the 53rd parallel.
Contact Manitoba Housing for more information.


What properties are eligible?
To be eligible for Homeowner RAD, the property must be:
the applicant's main residence and
located in Manitoba, outside of First Nations communities.
How much financial help is available under the program?
Qualified homeowners may receive up to $16,000. If the home is located in a northern community (north of the 53rd parallel), qualified homeowners may receive up to $19,000.
The Homeowner RAD program is provided with financial support from the Government of Canada.


What types of modifications are eligible?
Each applicant's situation is assessed individually. Eligible modifications may include:
installing handrails in hallways and stairways
changing storage areas in the kitchen, bathroom, and laundry room
installing lever handles on doors, sinks, and bathtubs
installing grab bars in the kitchen, bathroom, and bedroom
installing wheelchair ramps and widening entryways and interior doors
changing tubs, sinks, vanities and toilets
installing lift systems in bathrooms and bedrooms
changing floor covering
moving plumbing and electrical
A program inspector is assigned to each eligible applicant's project. Inspections are required under the program and the program inspector will decide what modifications are eligible.
What are the terms and conditions of the financial help?
Financial help can only be used for modifications and repairs approved by Manitoba Housing.
Financial help is available in the form of a forgivable loan. This means the loan does not have to be paid back as long as the person who received the loan meets the terms and conditions of the program.
Loan forgiveness is earned on a pro-rated monthly basis over the loan term of five years.
The loan does not have to be paid back unless the home is sold, rented out, ownership is transferred, or the applicant otherwise ceases to occupy the home as their main residence.
How is the financial help paid out?
Payments are made when work is complete. A program inspector will visit the home to ensure the invoiced work is completed to Manitoba Housing's satisfaction.
Eligible costs include materials, labour and applicable taxes, fees and permits.
Progress payments can be made under the program if some, but not all work items have been completed. The assigned program inspector will confirm work has been satisfactorily completed prior to each progress payment.
The final loan payment will be made when all work items have been satisfactorily completed.
NOTE: Loan advances are not allowed under the program.


What else should I know?
Work must be directly related to the disability and the home modifications must be permanent.
The household member's limitation or disability must be verified by a medical practitioner (a medical form must be provided with the application for assistance).
The cost of any work carried out prior to loan approval is not eligible for financial help.
All modifications and related work must meet applicable building codes and standards.
Approved modifications should be completed within six months of final loan approval.
How do I apply? How do I get more information?
Contact:
Manitoba Housing, Housing Delivery Branch
Telephone: 204-945-5566 or
Toll Free: 1-866-689-5566 or
come in person to 200-352 Donald Street, Winnipeg.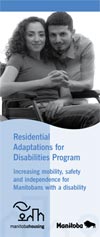 Read our brochure for additional information
Other programs that may be of interest to you:
---
Manitoba Housing Home
|
Our Programs
|
Find Housing
|
Tenant Resources
|
Our Communities
|
News
|
About Us
|
Working with Manitoba Housing
|
Job Opportunities
|
Contact Manitoba Housing
---