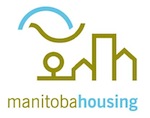 Homeowner Renovation Assistance Program (HRAP)
What is the HRAP program?
The program provides financial help to eligible low income homeowners to repair or restore their home to a minimum level of health and safety.


Who is eligible?
Homeowners who own and live at the property for which the application is being made
Owners with property taxes paid up to date and without tax arrears
Households with a total gross income that is at or below the program income limit set by Manitoba Housing for the community
NOTE: Gross household income includes income from everyone 18 years of age and older living at the home. Gross income is the total income before deductions.
Contact Manitoba Housing for current program income limits for your community.


What properties are eligible?
To be eligible for HRAP, the property must be:
the applicant's main residence
at least five years old
in need of major repair, which must be verified by a program inspector
located in Manitoba, outside of First Nations communities
assessed at a value less than the program house value limit set by Manitoba Housing

Contact Manitoba Housing for current house value limits for your community.


How much financial help is available under the program?
Qualified homeowners may receive up to $20,000. If the home is located in a northern community (north of the 53rd parallel), qualified homeowners may receive up to $23,000.
The HRAP program is provided with financial support from the Government of Canada.


What types of repairs are eligible?
Eligible repairs are determined by Manitoba Housing and must fall into at least one of the following categories:
structural
electrical
plumbing
heating
fire and life safety
A program inspector is assigned to each eligible applicant's project. Inspections are required under the program and the program inspector will decide and detail which repairs are eligible.
All qualifying repairs that are noted as mandatory by the program inspector must be completed.


What are the terms and conditions of the financial help?
Financial help can only be used for repairs approved by Manitoba Housing.
Financial help is available in the form of a forgivable loan. This means the loan does not have to be paid back as long as the person who received the loan meets the terms and conditions of the program.
Loan forgiveness is earned on a pro-rated monthly basis over the loan term of five years.
The loan does not have to be paid back unless the home is sold, rented out, ownership is transferred, or the applicant otherwise ceases to occupy the home as their main residence.

How is the financial help paid out?
Payments are made when work is complete. A program inspector will visit the home to ensure the invoiced work is completed to Manitoba Housing's satisfaction.
Eligible costs include materials, labour, applicable taxes, fees and permits.
Progress payments can be made under the program if some, but not all work items have been completed. The assigned program inspector will confirm work has been satisfactorily completed, prior to each progress payment.
The final loan payment will be made when all work items have been satisfactorily completed.
NOTE: Loan advances are not allowed under the program.


What else should I know?
Homeowners are responsible for:
The cost of all work that was done before the loan was approved.
All eligible repair costs that exceed the maximum loan amount that was approved. The amount that goes over the maximum loan amount is called homeowner equity. That amount must be paid in full before a loan payment can be made. No payments for repair work should be made without Manitoba Housing's consent.
Costs for repairs that are not required under the program.
All repair work must meet applicable building codes and standards and should be completed within six months of final approval.
NOTE: Financial help is not available to do partial repairs of selected areas within the home. Once required repairs are identified by the program inspector, homeowners cannot pick and choose the repairs they want done.


How do I apply? How do I get more information?
Contact:
Manitoba Housing, Housing Delivery Branch
Telephone: 204-945-5566 or
Toll Free: 1-866-689-5566 or
come in person to 200-352 Donald Street, Winnipeg.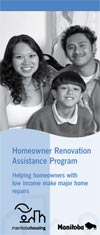 Read our brochure for additional information
Other programs that may be of interest to you:
---
Manitoba Housing Home
|
Our Programs
|
Find Housing
|
Tenant Resources
|
Our Communities
|
News
|
About Us
|
Working with Manitoba Housing
|
Job Opportunities
|
Contact Manitoba Housing
---