Natural Resources and Northern Development
Provincial Park Beaches
To many Manitobans, summer means a holiday at the beach. With 83 provincial park beaches to choose from across the province, Manitoba Provincial Parks have an abundance of beautiful beaches offering ample opportunities for visitors to swim, wade and enjoy the cool, clear water within picturesque settings. Spend time at these popular spots and savour a sunny summer tradition.
Beach Safety
The Beach Safety Program in Manitoba's provincial parks focuses on water safety public education. Safety measures provided at provincial park beaches include signage, brochures and buoy lines.
Three provincial park beaches, Birds Hill, Grand Beach (West Beach) and Winnipeg Beach, provide Beach Safety Officer services. Beach Safety Officers provide public education, emergency response and first aid at Birds Hill, West Grand Beach and Winnipeg Beach, but it's up to you to be water smart and supervise your children on the beach.
2023 Beach Safety Program operating dates and hours:
Birds Hill
June 1 - 23: 10 a.m. - 8 p.m.
June 24 - Aug 20: 10 a.m. - 9 p.m.
Aug 21 - Sept 4: 10 a.m. - 8 p.m.
Grand Beach and Winnipeg Beach
June 1 - Sept 4: 10 a.m. - 8 p.m.
Group Visits to the Beach
If your group is planning a beach trip to provincial parks this summer, Manitoba encourages supervisors to promote the safety of all group members by following beach safety tips. Additional information: Group Visits to the Beach - Birds Hill, Grand Beach and Winnipeg Beach.
If your group is planning a beach visit to St. Malo Provincial Park, please call the campground office at 204-347-5283 to inquire about beach safety presentations with the park interpreter.
Life-jacket Loan Program
Thank you to Cabela's Outdoor Fund for funding lifejackets at Birds Hill and other beaches across Manitoba!
Manitoba Parks encourage park visitors, especially boaters, children, and weak swimmers, to wear properly-sized life-jackets when participating in water-related activities. Visitors can borrow life-jackets in select parks, and return them after their activity. The Life-jacket Loan program is available at:
Bakers Narrows
Birds Hill
Clearwater - Campers Cove
Grass River - Gyles, Iskwasum
Paint Lake
Manipogo
Moose Lake
Rainbow Beach
St. Malo - Main Beach (2), Sunset Shores Beach
Spruce Woods
Stephenfield
Warning - Inflatables Not Recommended!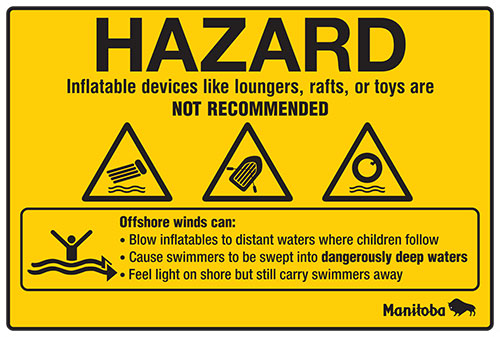 Save floaties for the pool! Floaties can put people at risk if they are used on lakes where a sudden wind can push them far from shore: https://youtu.be/2PpdBGkfaY4
Need More Info?
Email or call us at:
204-945-6784
1-800-214-6497
Quick Links
Resources