Natural Resources and Northern Development

Thousands of kilometres of trails crisscross Manitoba!   Use this page to find resources to help plan your trail adventures in provincial parks.
Trip Planning Resources
AdventureSmart Trip Plan
Conditions & Advisories
Trail Maps
Trail Regulations & Leave No Trace Principles
Activities
Accessibility: Trails for Everyone!
Day Hikes & Self-guiding Trails
Multi-day Hikes & Backcountry Camping
Horseback Riding
Mountain Biking
Off Road Vehicles
Organized Groups & Special Events
Orienteering & Geocaching
Trail Running
Winter Trails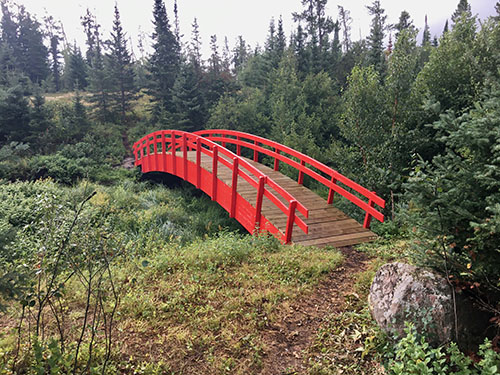 AdventureSmart Trip Plan
Heading Outdoors? Leave a Plan.  Completing a trip plan is extremely important. It explains your destination, travel route, equipment and expected return time. It is vital information to assist authorities searching for you in the event of an emergency.
With the AdventureSmart Trip Plan app you can easily create trip plans and send them to your family and friends.  The app is available free in the Apple App Store for iOS devices and on Google Play for Android devices, and can also be accessed from any web browser.
---
Conditions & Advisories
Know before you go!  Check for:
---
Trail Maps
Some trails have illustrative maps available for download.  Go to our Park Maps and Locations page to view available trail maps.
Always stop and read the trailhead sign for updates on maps, advisories and activity information.
---
Trail Regulations & Leave No Trace Principles
Plan Ahead and Prepare
Be sure to review the information provided at trailheads and travel on routes suitable to your skill level.  Follow the posted regulations and designated activities.
Be aware of your surroundings – follow along on a trail map, use a GPS device or a smartphone mapping app.  Take a photo with your camera or smartphone of the trailhead map, if no printed copies are available. 
Mobile apps such as Trailforks or AllTrails are useful for trip planning purposes, however users should note the information on these apps is crowdsourced are not always accurate, official or maintained routes.  Always refer to the official park map and trailhead signs for designated trails and activities. 
Visit a park office or visitor centre for maps and information.
Schedule your trip to avoid times of high use.  If a parking lot/staging area is full, do not park along roadways.  Postpone your visit or try a different trail system.
Visit in small groups to minimize environmental impacts.
Most backcountry areas have poor cellular coverage, which is impacted by trees and terrain that can block the signal.  Satellite communication devices are recommended when travelling on longer routes and overnight trips. 
Leave a trip plan behind with a responsible person.  Know the emergency phone numbers for the area your visiting (9-1-1 is not available in some parks).
Travel and Camp on Designated Routes
Use trails for your designated activity.  Some trails are for hiking only, while some are multi-use and accommodate other activities such as mountain biking.  Some trail use designations change for winter.  Observe signs at trailheads and only use trails designated for your activity.
Stay on trail.  Going off trail increases the risk of you getting lost, and could expose you to poison ivy, ticks and other irritants.  Creating shortcuts and unsanctioned trails contributes to erosion and can destroy sensitive plant growth and ecosystems.  Walk single file in the middle of the trail, even when wet or muddy to minimize impacts.
Backcountry camping is only permitted on designated sites.  Keep your campsite small and pack light.
Dispose of Waste Properly
Pack out everything you packed in.  If there are no garbage cans available or if they are full, you must bring trash home with you.
If you were camping, inspect your site and rest areas for trash and spilled foods.
If you are in the backcountry and no facility is available, deposit solid human waste in holes dug 15-20 centimetres deep, at least 70 metres from water, camp and trails.  Cover and disguise the hole when finished.  Pack out toilet paper and hygiene products.
Leave What You Find
Preserve the past: examine and photograph, but do not touch cultural or historic structures or artifacts.
Leave rocks, plants and other natural objects as you find them.
Stop the spread of invasive species.  Learn more here.
Do not build structures, furniture or dig trenches.  Do not move rocks to build cairns or inuksuk – you could inadvertently be altering a sacred Petroform.
Be Wildlife Smart
Black bears live across most of Manitoba.  Stay alert as you travel, make noise, and secure attractants.  Read our bear information here.
Observe wildlife from a distance.  Do not follow or approach them.
Never feed animals.  Feeding wildlife damages their health, alters natural behaviours, and exposes them to predators and other dangers.
Control pets at all times – always keep them on a leash.
Keep Campfires Safe
Open fires are prohibited.  Fires must be contained within provided fire pits.  Keep fires small. 
Check for Fire Restrictions before you visit.
Fully extinguish your fire before leaving.  Never leave a fire unattended.
Report Wildfires 1-800-782-0076.
Be Considerate of Others
Respect other visitors and protect the quality of their experience.
Keep dogs on leash and always clean up after your pets.  See our Paws in Parks page for more pet information.
Only travel on trails designated for your activity.  Note trail designations change in the winter season – see our Winter Trails & Experiences page for more information.
Be courteous.  Yield to other users on the trail.
Let nature's sounds prevail.  Avoid loud voices, music and noises.
Be aware hunting and trapping seasons occur in many provincial parks.  Hunters may be encountered at any time as trails often run through backcountry areas that are open for hunting.  Stay on trail and always keep dogs on leash.  High visibility clothing is recommended, especially during the fall season.  Learn more about hunting and trapping in provincial parks here.
Capture and Share Your Experience Responsibly
Remember, stay on trail at all times and take your photos from the trail.  Venturing off trail, climbing trees or rocks, or entering closed areas to take that unique Instagram shot not only puts you in danger, but also promotes reckless use of our park trails and sites and causes degradation of natural landscapes.
Drones/UAVs/RPASS can take spectacular photos and video with overhead perspectives, however you must follow Transport Canada regulations for drones, do not disturb wildlife and never fly near other visitors.
Be mindful when posting on social media and creating "buzz" around a particular trail, site or natural wonder in parks.  Consider the potential impacts of rapidly increased use can have on parks as a result of your social media influence.  When posting your experiences on social media, encourage others to visit parks responsibly and follow Leave No Trace principles when they visit.  Social media, when used the right way, is a powerful tool that can motivate everyone to become stewards of our park resources.
---
Accessibility: Trails for Everyone!
Provincial parks offer a variety of accessible trails for visitors with varying degrees of mobility. From beautiful views of water falls, boreal forest, or lakes and rivers, kilometres of memories await!  While some trails are more technical with rocky terrain, there are several trails with flatter, groomed surfaces.
Manitoba Parks continues to work on making many of our places, facilities and services accessible.  If you have accessibility requirements, contact the local park office to discuss options for places to visit that meet your needs. 
Here is a short list of our recommended accessible trails:
Bur Oak Trail, Birds Hill Provincial Park is a 1 km paved loop through an aspen/oak forest, and features interpretive signs that highlight wildlife and natural processes in different seasons.  This trail is also groomed in the winter for easy walking.
Blue Trail, St. Malo Provincial Park is a 1 km flat, granular path (hard packed limestone) between the main beach and the smaller, quieter Sunset Shores beach.  The trail winds along the lakeshore, making for a nice scenic trail away from the crowds.
Brokenhead Wetland Interpretive Trail, Brokenhead Wetland Ecological Reserve features a fully accessible 1 km boardwalk through a rare cedar bog.  Interpretive signs along the way tell the Ojibway connection to the land.  Interpreters from Brokenhead First Nation provide a guided experience along the trail.  Visit www.debwendon.org for more information on this special place.
Hecla Village Self-guiding Trail, Hecla/Grindstone Provincial Park is a 1 km granular (hard packed limestone) path that loops around the historic Hecla Village.  See heritage buildings and sites from the original Icelandic settlers.  Park Interpreters offer guided tours through the summer.
Lakeview Trail, Birds Hill Provincial Park is a 7 km paved loop in the centre of the park that can be accessed at the Overlook Site, the campground or beach.  You'll see different landscapes of the park, through prairie, forest and wetlands around Kingfisher Lake.  This trail is also groomed in the winter for easy walking.
Kiche Manitou Trails, Spruce Woods Provincial Park features over 5 km of granular (hard packed limestone) paths that wind around the campground area and oxbow lake.  Be on the lookout for a variety of birds and wildlife, and be sure to stop in at the Visitor Centre to explore the interpretive exhibits or chat with a Park Interpreter.
Pine Point Self-guiding Trail, Whiteshell Provincial Park is a 5 km return trail to the scenic Pine Point Rapids.  Spend a few minutes or spend the day at the rapids that features a picnic site and shelter.  Two paths will get you there – one is a relatively flat path for easy access.  The second is more technical over rock ridges and features interpretive signs.
Pisew Falls Walkway, Pisew Falls Provincial Park features a new 1 km granular path (hard packed gravel) with handrails to three different platforms to view the iconic falls.
Scooters & Motorized Wheelchairs
Our trails are generally intended for self-propelled modes of transportation.   We make an exception for medical motorized mobility aids as defined under The Highway Traffic Act. A motorized mobility aid means a device which is specifically manufactured or modified for operation by a physically handicapped person and which has
a maximum speed capability of not more than 15 kilometres per hour,
a maximum width of not more than 81.2 centimetres, and
a maximum mass of not more than 226 kilograms,
There are numerous gravelled and even some paved trails around park campgrounds and developed areas that can be safely traveled with a motorized mobility aid.  Be aware that many backcountry trails are not suitable for mobility aids due to the nature of the terrain. 

Interpretive Media in Alternate Formats
Interpretive signs and brochures along self-guiding trails tell stories and highlight natural, cultural and historical features of parks. These signs and information are available in alternate formats, upon request.  Email ParkInterpretation@gov.mb.ca for more information.
---
Day Hikes & Self-guiding Trails
Many provincial parks have short 1-10 km trails suitable for day hikes. From short paved loops to rugged terrain, plan an hour hike or a full day! 
Several trails also have interpretive signs or accompanying brochures that help you discover unique features along the trail.  These trails are called self-guiding trails and are a great way to discover the natural history and cultural heritage of the park. 
Here are some of our recommended day hikes and self-guiding trails.  Some have maps and information available to download. 
NOTE: Many of these routes have different activity designations in the winter season and may not be open for hiking.  Find winter trail information here.
Ancient Valley
Asessippi Village
Crocus Trail
Blue Lakes & Shining Stone
Childs Lake
Glad Lake & Copernicus Hill
Spray Lake
Shell River Valley
Hogsback
Marshs Lake
Parsons Hill
Quiet Voices
Spring Ridge
Amisk
Bannock Point Petroforms
Big Whiteshell
Cabin Lake
Dragon Fire
---
Multi-day Hikes & Backcountry Camping
From prairie to parkland to boreal forest, we have multi-day hikes and backcountry camping experiences in all ecoregions of the province.  Many of these backcountry routes don't see the regular maintenance or development as our shorter day hikes.  This is on purpose!  These trails are designed to provide a more challenging experience through the wilderness.  Be prepared to cross fallen trees, climb rocks, cross wet/muddy conditions, and push your outdoor skills.
Listed here are our multi-day hike options in provincial parks.  Backcountry campsites are available on a first-come, first serve basis, unless otherwise noted.
Duck Mountain Provincial Park
This shared use trail runs through the spectacular backcountry of "The Ducks".  Camp overnight at Mossberry Lake, located at the half way point between Blue Lakes and Childs Lake.
Nopiming Provincial Park
Six campsites are located at the end of a 2 km trail from the main Tulabi Campground.  These lakeside sites provide a unique short-haul backcountry experience, and come complete with their own toilet privy, table and fire pit.   Sites must be reserved through the Parks Reservation Service May to Thanksgiving.
Pisew Falls Provincial Park
A 26 km round trip, hiking enthusiasts can overnight on the far side of a suspension bridge, following the Grass River to Kwasitchewan Falls, the highest waterfall in Manitoba.
Spruce Woods Provincial Park
Hikers can tailor their own walk to come up with a four- to 40 km trip along this trail system.  A series of loops over rolling sands, mixed-grass prairie and mixed-wood forests makes this one of our more unique and challenging backcountry experiences.  Three campsites along the way feature log cabins and hand pump water wells.  In winter, stay overnight at the Jackfish Lake Cabin - reserve by contacting the Carberry Park District Office 204-834-8800.
Turtle Mountain
A large network of multi-use trails takes you through the rolling woodlands and wetlands of the Turtle Mountains.  Stay overnight at the James Lake Cabin (7 km in from Adam Lake) – reserve by contacting the Boissevain Park District Office 204-534-2028.

A short 1 km walk in from the Oskar Lake road provides a unique backcountry camping experience on the shorelines of beautiful Oskar Lake. Watch the elegant dance of the Western Grebe, listen for the commanding bugle of the bull elk, awe in the heavens of the night sky. 
Whiteshell Provincial Park
Cabin Lake

A 3 km walk in to Cabin Lake provides an easy overnight backcountry experience.  Access the trailhead from the north side of Red Rock Lake, or make it a stop on a longer trek along the Trans Canada Trail.

Meditation Lake

A 1.5 km walk in to Meditation Lake is another easy overnight backcountry experience.  A large camping area along the shoreline makes for a great space for larger groups.

Mantario Trail

Spanning an incredible 65 km through the Mantario Wilderness Zone in Whiteshell Provincial Park, the Mantario is Manitoba's ultimate wilderness experience!  The Mantario is a rugged, challenging trail that should only be attempted by those that are fully prepared and experienced hikers.  A detailed topographical trail map is available for purchase from Canada Map Sales.  Join the Mantario Trail group on Facebook to connect with fellow hikers.

Trans Canada Trail

This trail crosses through the entire Whiteshell, broken into three main parts – the North Whiteshell Trail (Between Seven Sisters and Rennie), the Centennial Trail (between Rennie and Caddy Lake) and the South Whiteshell Trail (Caddy, West Hawk and Falcon Lake Areas).  Pick and choose your route, and camp overnight in campgrounds along the way.  Check out the Trans Canada Trail app to plan your adventure.
---
Mountain Biking
Get your heart pumping on a mountain bike ride!  From easy loops to technical challenging routes, there are plenty of mountain biking opportunities in provincial parks.  Here are some of our favourite riding areas that are designated for mountain biking.  Note that many of these routes are shared use trails, please use courtesy when riding and yield to other trail users.
Asessippi – Ski Resort Trails
Birds Hill – Oak Ridge Mountain Bike Trail
Duck Mountain – Mossberry Trails
Grand Beach – Beach Ridge Trails
Pembina Valley Trails
Spruce Woods – Epinette, Seton & Yellow Quill Trails
Turtle Mountain – Adam Lake Trails
Whiteshell - Falcon Ridge Trails, Blue Highway Mountain Bike Route, Foresters Footsteps, Big Whiteshell Mountain Bike Trail
Fatbikes are mountain bikes designed with wide tires, ideal for travelling over softer terrain such as sand and loose gravel, and are welcome on any designated mountain bike trail.  They are popular to ride in the winter on snow. 
For information on where to bike ride in winter, see our Winter Trails page.
---
Horseback Riding
Equestrian is the encompassing term for all activity involving the horse or other equus species (eg. mule). The term equestrian describes both recreational and competitive riders, handlers, and drivers.   Four provincial parks provide unique trail riding and equestrian experiences.
Birds Hill Provincial Park
Birds Hill is a hub of equestrian activity.  The Riding Stables area serves as the central setting for multiple groups, special events and trail riding on a large network of trails through the park.  The park served as the equestrian venue for the 1967 and 1999 Pan Am Games.
The Birds Hill Park Ranch is a commercial operation that offers trail rides and boarding services.  The park is also the home of the Springfield Polo Club and the Manitoba Horse Council equestrian facility.
Duck Mountain Provincial Park
Mossberry Trail is a 30 km shared use trail that accommodates horseback riding, hiking, mountain biking and off-road vehicles.  Three backcountry campsites along remote lakes allows for multiple days of riding through the spectacular Duck Mountains.
Spruce Woods Provincial Park
A network of backcountry trails in the southeast area of the park provide some of the most popular distance riding in the province.  These well marked trails go over sand hills, mixed grass prairie, spruce forests and aspen groves.  Two equestrian campgrounds serve as the staging areas for the trails. 
The Equestrian Campgrounds are administered by the Friends of Spruce Woods in partnership with Manitoba Parks.  At these self-registry campgrounds, you'll find corrals and pens, water troughs, and a variety of camping services.  The main campground features electrical service, a barn and showers.  The Canoe Landing campground provides a backcountry camping experience along the trails.
Turtle Mountain Provincial Park
Rivaling the trails at Spruce Woods, the Adam Lake Trails in Turtle Mountain also provide spectacular distance riding on a network of trails through woodlands and around multiple lakes.  Stay overnight at two equestrian campsites available at the Adam Lake Campground, or overnight at the rustic James Lake Cabin. Both the campground and the James Cabin have pens for your horses.
---
Organized Groups & Special Events
Any organized groups of 10 or more participants using park trails, backcountry campsites or other facilities must obtain a Special Event Permit.
---
Off Road Vehicles (ATVs)
Off road vehicles are only permitted on designated routes in provincial parks.  Duck Mountain Provincial Park is a signature destination for ORV riders on the Mossberry Trail, a 30 km shared use trail that accommodates off-road vehicles, horseback riding, hiking and mountain biking.  Three backcountry campsites along remote lakes allows for multiple days of riding, fishing and camping through the spectacular Duck Mountains.
Visit ATVMB for more riding areas in Manitoba.
---
Orienteering & Geocaching
Orienteering involves using a map and compass to find a series of checkpoints. An orange and white marker (called a "control") is located at each checkpoint, along with a card-punching device or an electronic timing unit. At an orienteering event, the objective is to visit all of the controls, in the specified order, in the fastest time.
Several permanent orienteering courses in provincial parks have been developed in partnership with the Manitoba Orienteering Association.
Learn more about orienteering and upcoming events with the Manitoba Orienteering Association.
Geocaching is an adventure game using a GPS (global positioning system). Individuals or organizations set up a "cache" and share the coordinates (called "waypoints") on the internet. Participants use these GPS coordinates to find the geocache and then share their experiences online. Learn more about geocaching in parks here.
Discover the sport of geocaching or join a geocaching event with the Manitoba Geocaching Association.
---
Trail Running
Trail running is welcome on all hiking trails in provincial parks.  Check out the Manitoba Association for Trail Runners, a new organization dedicated to growing the trail running sport in Manitoba.
---
Winter Trails
Many trails are groomed in the winter season, and their activity designations change.  See our Winter Trails & Experiences page for information.